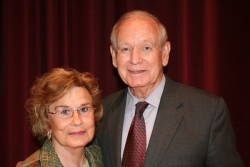 Billie and Robert D. Ray
CONTACT: Lisa Lacher, 515-271-3119, lisa.lacher@drake.edu
Fall classes for those of retirement age will start soon through Drake University's Billie and Robert D. Ray Lifelong Learning Society.
With new classes, such as God and the Problem of Evil and An Introduction to Forensic Medicine, students will engage in cultural and intellectual discussions, fostering stimulating, ongoing learning.
Other new classes coming up this fall are:

The Aches and Pains of Aging – Part I
Introduction to PowerPoint
Knowledge: What Do We Know and How Do We Know We Know It?
The Media Portrayal of the Assassination of John F. Kennedy
The Modern Worldview
T'ai Chi Ch'uan
Thinking Outside the Box
Weathering the Storm: Ensuring Retirement Security During Tough Economic Times
The RaySociety takes its name from a pair of distinguished Drake alumni: former Iowa Gov. Robert D. Ray, who also served as the University's president, and Billie Ray, former first lady of Iowa and a former school teacher.
Membership in the RaySociety costs $50 per academic year (June 1 through May 31) plus an additional $25 per course fee. Classes are taught by a host of volunteer instructors, including current and retired Drake faculty. The first class begins Sept. 12.
To join the RaySociety or to obtain more information, contact Teresa Bartschat at 515-271-1847.



The entire fall class schedule is posted online, along with a membership and class registration form.
The RaySociety also sponsors numerous social activities for members. The complete Events and Social Schedule is posted online.
Highlights from the fall schedule are listed below:

Blank Park Zoo and Lunch – Wednesday, Sept. 10
RaySociety Tailgate and Drake Football Game – Saturday, Sept. 13
Gold Star Museum – Tuesday, Oct. 21
History Hunters Historical Museum Vault Tours at the State
Historical Museum – Thursday, Nov. 20
Christmas at Salisbury House – Wednesday, Dec. 10
To attend any of these events, contact Rena Wilson at 515-271-2120 or rena.wilson@drake.edu.