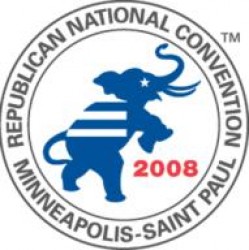 MEDIA CONTACT: Lisa Lacher, 515-271-3119, lisa.lacher@drake.edu
Drake University journalism students took advantage of opportunities at the 2008 Iowa caucuses to secure internships at the Republican National Convention Sept. 1-4 in the Twin Cities.
"Drake always promotes the Iowa caucuses to students as an event that can lead to more professional opportunities down the line," said Kathleen Richardson, director of the School of Journalism and Mass Communication.
Danielle Sauka of Maplewood, Minn., and Tyler Boggess of Kearny, Mo., will work for ABC News during the convention.
Sauka and Boggess worked with ABC News during the 2008 Iowa caucuses and those connections helped them make their way to this year's convention.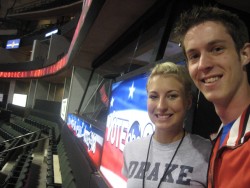 Danielle Sauka and Tyler Boggess at the Xcel Energy Center in St. Paul.
"I worked with ABC during the Iowa Caucuses and they called me up
again to work for the Republican Convention," Sauka said. "I will miss
two weeks of classes, but it was an opportunity I couldn't pass up."
In addition, Lynn McRoberts of Overland Park, Kan., will serve as a page in the Republican National Convention Page Program.
Also
attending the convention will be Kelsey Jones, a sophomore from
Galesville, Wis., who is majoring in politics and public relations. She
will be a volunteer helping to accommodate people covered by the
Americans with Disabilities Act.
The four students have launched a blog to share their experiences. View the blog online.