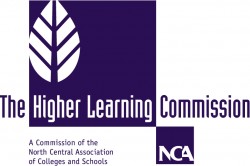 MEDIA CONTACT: Lisa Lacher, 515-271-3119,
lisa.lacher@drake.edu
Drake University's accredited status has been continued by the Higher Learning Commission without any need for follow-up reports or focused visits.
Having fully met the accreditation standards of the commission, Drake is scheduled to have its next comprehensive team visit in 2017-18.
The commission's action follows a comprehensive self study by the University and a three-day site visit last February by a team of nine consultant-evaluators.
"We are delighted that the reaccreditation process is complete," said Drake President David Maxwell, "and we are very pleased by the overwhelmingly positive comments in the Higher Learning Commission's report. It is powerful external validation by higher education professionals of Drake University's exceptional learning environment."
In its written summary of the review, the commission concluded that:

Drake University is a far stronger and focused institution than it was 10 years ago.
Its mission is clearly understood and embraced by the administration, faculty and trustees.
It has established a planning culture that guides resource allocation decisions through clearly articulated priorities.
It has a solid track record of capital and operating budget decision-making as evidence of solid planning.
A culture of assessment of learning has taken hold. Its participation in the Academy for Assessment of Student Learning has laid the foundation for continued improvements in effective assessment practices.
It has committed resources to support faculty development. Through its systematic program review, Drake University has a process of continuous program enhancement.
Finally, the University has demonstrated a continuing commitment to provide opportunities for students and faculty to serve the broader community.
The Assurance Section of the commission report of the comprehensive evaluation visit to Drake University is available online.
More information about the accreditation process and the Higher Learning Commission is available on the commission's Web site. The commission can be reached by phone at 800-621-7440 or 312-263-0456.