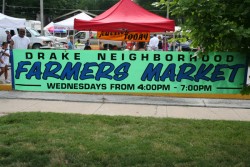 CONTACT: Lisa Lacher, 515-271-3119, lisa.lacher@drake.edu
The Drake Neighborhood Farmers' Market will continue its
12th season with educational and family-friendly events as well as
opportunities to help less-fortunate people around the world.
All month, eyeglasses and hearing aids will be collected for
worldwide distribution by the Lions Club of Iowa. Market attendees are
encouraged to recycle these items in the For Your Health tent.
The next market on Wednesday, July 23, will feature:
Sweet
Corn Festival — Each person will get
a free, just-roasted ear of Iowa sweet corn.
Free
Craft Table for Kids
For
Your Health — Spokespeople from The
Child Abuse Prevention Council will be available to speak with
market-goers. This agency's mission is to end child abuse in Polk County
through education, training and support.
Free
face painting
The market is open from 4 to 7 p.m. every Wednesday, rain or
shine, through Sept. 24. It is held in the parking lot of First Christian
Church, 25th Street and University Avenue. Free parking is available across the
street from the market.
More than 20 vendors will offer Iowa-grown produce, baked
goods, snacks, meals, sandwiches and crafts. Four vendors have wireless
equipment that accepts bank debit cards, Visa, Discover and MasterCard credit
cards and Electronic Benefit Transfer cards. IFMNP/WIC checks and Senior
Farmers' Market Nutrition checks are welcome at the market.
Entertainment, educational information and special guests
are provided weekly. The market also has a health tent, where free blood
pressure checks and blood sugar tests are available each week.
The market is a non-profit community event sponsored by
First Christian Church, the Drake Neighborhood Association and Drake
University. For more information, call Ginny Gieseke at 515-277-6951.
Activities scheduled for next week's market include:
July 30
Cooking
Demos — Chef Joe Godfroy will
demonstrate easy and delicious dishes with the produce available at the
market. Free samples and recipes will be available.
Meet
the Iowa Energy — Representatives of
Iowa's professional basketball team will make an appearance. Market-goers
will have the opportunity to visit with players, meet the mascot and pick
up some great giveaways!
For
Your Health — Representatives from
Primary Health Care will talk about the services they provide. The center
is dedicated to serve the medically insured, uninsured and underinsured.
Kids'
Veggie Toss Game — Kids will be able
to throw veggies at a garden target to win a prize.