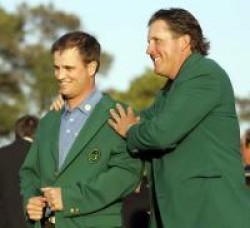 Zach Johnson dons the fabled green jacket after winning the 2007 Masters with help from 2006 champion Phil Mickelson.
A Masters champion, a prolific composer and an international banker are among the alumni Drake University will honor at an awards dinner on Friday, May 16.
The Drake National Alumni Association Annual Awards Dinner will recognize six outstanding alumni beginning with a reception at 6 p.m. and dinner at 7 p.m., in Parents Hall at Olmsted Center, 2875 University Ave. The cost is $25 per person. To make a reservation, call 515-271-3147.
The award winners are:

Professional golfer Zach Johnson
Business strategist Julie R. Koch
Composer Linda Robbins Coleman
Educator Linda Anderson Worcester
Businessman Richard F. Worcester
Bank executive Lawrence K. Fish
Johnson, who won the 2007 Masters Championship, will receive the Young Alumni Achievement Award. A resident of Lake Mary, Fla., Johnson played on Drake's golf team, which won the 1997 and 1998 Missouri Valley Conference championships. After graduating with a bachelor's degree in business in 1998, he began his professional golf career. In 2006, the PGA of America announced a $100,000 donation to Drake University on his behalf.
Koch, a business strategist at the Mayo Clinic in Rochester, Minn., will receive the Young Alumni Loyalty Award. She attended Drake as a National Alumni Scholar and graduated in 1999. She has served the past three years as chair of the National Alumni Scholarship program, which brings more than 300 outstanding admitted students to campus each year to compete for full-ride and full tuition scholarships. She also serves on the Donald V. Adams Leadership Institute Steering Committee.
Coleman, one of Drake's most prolific alumni composers, will receive the Alumni Achievement Award. A 1976 Drake graduate who lives in Des Moines, Coleman has written works for theater, chamber choirs, jazz ensembles and orchestras. She co-founded the Iowa Composers Forum, which is dedicated to the performance and promotion of living Iowa composers. She composed "In Good King Charles's Golden Days," which was performed by the Milwaukee Symphony in 1997 — the first time a work by an Iowa woman was performed in concert by a major symphony orchestra.
Linda and Richard Worcester of Wheaton, Ill., will each receive the Alumni Loyalty Award. Linda graduated from Drake with a bachelor's degree in education in 1974, and her husband Richard graduated with a bachelor's degree in 1971 and a master's degree in 1974. Linda, a former teacher, and Richard, president of SW Anderson Co., have been longtime benefactors and supporters of Drake University. Richard served for many years on Drake's Chicago Advisory Board as well as the planning committee for Drake's annual Windy City Golf Outing. The Worcesters also have been active in student recruitment activities and have hosted receptions in their home for admitted students.
Fish, chairman of the America unit for the Royal Bank of Scotland, will receive the Distinguished Service Award — the highest honor bestowed by the Drake National Alumni Association. A resident of Chestnut Hill, Mass., Fish graduated from Drake in 1966. He is a director of the Royal Bank of Scotland Group and Textron Inc., as well as a member of the Board of Trustees of The Brookings Institution in Washington, D.C. He also has served on the Drake Board of Trustees. He established the Fish Family Scholarship, providing an annual four-year, full-tuition, room and board scholarship to Drake — plus an annual $2,000 stipend — for the child of a Citizen's Bank employee. He also endowed the Lottie and Robert Brown Scholarship Fund at Drake, in honor of his grandparents.