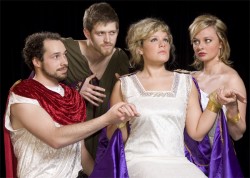 Sean Buhr, Phil King, Jenna Stinson and Alexis VanVleet in "Dido and Aeneas."
MEDIA CONTACT: Tory Olson, 515-271-1834, tory.olson@drake.edu
The Drake University Opera Theatre, directed by Ann Cravero, will present Henry Purcell's "Dido and Aeneas" at 8 p.m. on May 3 with an ensemble conducted by teaching artist Bruce Perry. The performances will be in the Performing Arts Hall of the Harmon Fine Arts Center, 25th Street and Carpenter Ave.
Purcell's opera tells the story of Dido, the widowed Queen of Carthage, who falls in love with the Trojan Prince Aeneas after his crew is shipwrecked in Carthage. The Carthage Witches, who hate Dido, plot the queen's destruction by creating a storm that breaks while the couple is out hunting. Upon their arrival back in town, Aeneas is told to leave Dido and sail for Italy. When Aeneas leaves, Dido kills herself and her death is lamented by mourning cupids.
Based on Virgil's "The Aeneid," Purcell's "Dido and Aeneas" captures the essence of this classical work with beautiful melodies set in the English Masque tradition, said Cravero.
The performance also will include famous love scenes from operas "Don Giovanni," "Albert Herring," "The Magic Flute," "The Marriage of Figaro" and "The Merry Wives of Windsor" directed by Christine Blanner, teaching artist in voice.
Tickets for the opera are $12 for adults and $6 for students, senior citizens and those with a Drake ID. For tickets, call the Drake Fine Arts Box Office at 515-271-3841.