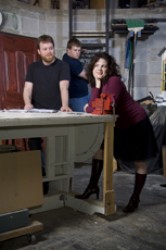 Eric Selander, Adam Sandroni and Jenna Schoppe star in Drake's production of "The Widow's Blind Date."
MEDIA CONTACT: Lisa Lacher, 515-271-3119, lisa.lacher@drake.edu
Set in the baling room of a wastepaper company in Wakefield, Mass., "The Widow's Blind Date" by Israel Horovitz tells the story of three high school classmates who meet 20 years post-graduation in an impromptu, awkward reunion.
The play runs through Sunday, May 4, in Studio 55 of the Harmon Fine Arts Center, 25th Street and Carpenter Avenue. Performances will start at 8 p.m. May 3 and at 2 p.m. May 3 and 4.
Deena Conley, assistant professor of theatre arts, directs Drake's production of the play, which challenges the bonds of friendship, calls into question the issue of revisionist history and tests the limits of forgiveness.
"This play has three wonderful characters," Conley said. "They are multi-faceted and broken individuals. They are, to me, intensely human.
"Some questions that pervade my mind as I tackle this script in rehearsal every night are: Does one act equal eternal condemnation? Are there some things that can't be forgiven? What is the price of friendship?"
The show, which runs approximately two hours, contains adult language and content and is not suitable for children.
Tickets are $5 for adults, $3 for non-Drake students and senior citizens and $1 with a Drake ID. Tickets are available at the Drake Fine Arts Box Office. Reservations are suggested due to limited seating. For reservations, call 515-271-3841.