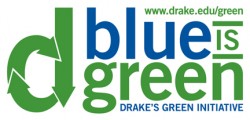 MEDIA CONTACT: Lisa Lacher, 515-271-3119,
lisa.lacher@drake.edu
Drake University President David Maxwell recently announced a new environmental program that commits Drake to doing everything it can to minimize its carbon footprint and impact on the environment in general.
The new Drake Blue is Green Initiative stems from Drake's role as one of the charter signatories to the American College and University Presidents' Climate Commitment.
Drake has established a Sustainability and Oversight Committee under the direction of Vicky Payseur, vice president for business and finance. The committee has been working to make Drake a greener campus. More information about the Blue is Green Initiative is posted on the Drake Web site.
"As we move forward, you'll be able to see Drake's progress in this area," President Maxwell said in a speech to Drake students during Earth Week. "But I want to make sure you know how much has been done already."
He then listed the following accomplishments, which have enabled Drake to reduce gas usage by 27 percent and electricity consumption by 15 percent over the last seven years:

Investing $11 million to improve the efficiency of the campus heating and cooling system
Installing motion-control light switches
Adding vending misers to save energy on all vending machines
Converting to compact fluorescent light bulbs throughout most of campus
In addition, the University has taken the following measures to protect the environment:

Distributing 1,000 CFLs to students and faculty during Earth Week
Installing Energy Star washers and dryers in all residence halls
Enabling students, faculty and staff to ride DART buses for free with the goal of reducing travel by car
Using biodiesel fuels for the campus lawn mowers
Providing green chemicals to custodians for cleaning and disinfecting
Moving toward greater use of electronic documents and storage
Focusing building projects on renovation and remodeling, including the Quad residence halls and Cole Hall
Employing LEED (Leadership in Energy and Environmental Design) principles wherever possible in building projects
Using recycled materials wherever possible in building projects
Establishing a pilot recycling program in several buildings this spring with plans to implement the program across campus in the fall
The University's academic programs also reflect Drake's green culture and commitment:

Drake offers a major in environmental science and policy
Students have restored a large prairie area on campus
The MBA program offers a focus on sustainability
"We still have a lot to do," Maxwell said in his Earth Week address, "but there's been enormous progress and enormous commitment in recent years. The Sustainability and Oversight Committee will continue to build on this progress.
"We need to remember it's not just an institutional responsibility, but a personal responsibility as well," he added. "I encourage each of you to think about your individual, personal impact on the environment and the ways in which you can reduce it."