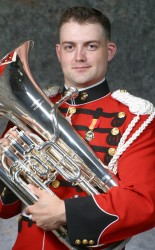 Mark Jenkins
MEDIA CONTACT: Tory Olson, 515-271-1834, tory.olson@drake.edu
The Drake Concert Band, directed by Grady McGrannahan, will present a free concert featuring Mark Jenkins, euphonium soloist with "The President's Own" U.S. Marine Band. The concert, which will begin at 8 p.m. Sunday, May 4, will be held on the Jordan Stage in Sheslow Auditorium, Old Main, 2507 University Ave.
Jenkins will be performing Vladimir Cosma's "Concerto for Euphonium" with the Drake Concert Band.
"Jenkins describes French composer Vladimir as the 'French John Williams' since he has written quite a few music scores and his music is very easy to listen to," McGrannahan said.
The band also will play works by Eric Whitacre, J.S. Bach and Clifton Williams.
Jenkins joined the Marine Band, America's oldest professional musical organization, in 2002. He performs with the band and the Marine Chamber Ensembles at the White House in Washington, D.C., and the surrounding metropolitan area and across the country during the band's annual concert tour.
He also has performed with the band and as a guest soloist and clinician at a number of conferences including the International Tuba and Euphonium Conference and the Southwest Regional Tuba/Euphonium Conference.
Jenkins is a two-time winner of the Leonard Falcone International Euphonium Competition and a finalist in the 2001 ITEC Euphonium Solo Competition in Finland.
He earned a bachelor's degree in music from the University of North Texas and his Master of Music degree from the University of Maryland.