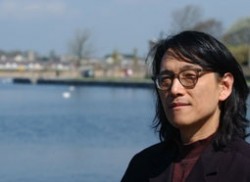 Li-Young Lee
CONTACT: Tory Olson, 515-271-1834, tory.olson@drake.edu
The Drake University Writers and Critics Series will present an evening with the 2008 Des Moines National Poetry Festival poet Li-Young Lee at 8 p.m. on Wednesday, April 30.
The event, which is free and open to the public, will be held at Sheslow Auditorium in Old Main, 2507 University Ave. A reception and book signing will follow in Levitt Hall in Old Main.
Lee, an award-winning author with several published works, was interviewed on Iowa Public Radio's "The Exchange" program on Wednesday, April 30. The program, which aired from 10 to 11 a.m. on WOI AM 640, can be heard on Iowa Public Radio's Web site.
Lee's visit to Drake is made possible by a partnership between the Drake University Writers and Critics Series and the Des Moines National Poetry Festival.
"We are delighted that we have the opportunity to co-sponsor this event with the Des Moines National Poetry Festival," said Drake President David Maxwell. "We take very seriously our responsibility to serve the common good in our community, and collaborations of this type with community organizations is a tangible symbol of our commitment."
"We are extremely pleased that our friends in the Drake English Department were open to a proposal that allowed the continuation of the festival's presence on the Des Moines art scene," said Jim Autry, co-founder of the festival. "We hope this will be the beginning of an expanding relationship to the benefit of both Drake and the festival."
Lee's poetry, which is widely praised by critics and scholars, is strongly influenced by his family history, childhood and individuality. He writes with simplicity and passion, creating images that take the reader deeper and requiring his audience to fill in the gaps with their imagination.
His books have received many awards, and he also has been the recipient of several grants, including ones from the National Endowment for the Arts and the Guggenheim Foundation. His published works include:
"Behind My Eyes" (2008)

"Book of My Nights" (2001), winner of the 2002 William Carlos Williams Award

"The City in Which I Love You" (1991), 1990 Lamont Poetry Selection

"Rose" (1986), winner of the Delmore Schwartz Memorial Poetry Award

"Breaking the Alabaster Jar: Conversations with Li-Young Lee" (2006)

"The Winged Sea: A Remembrance" (1995), winner of an American Book Award from the Before Columbus Foundation
To learn more about Li-Young Lee, visit the Web site.
The Writers and Critics Series is sponsored by Drake's English Department and Center for the Humanities. For more information, contact Jennifer Perrine at 515-271-4161 or jennifer.perrine@drake.edu.