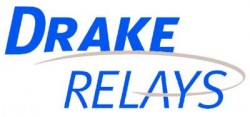 MEDIA CONTACT: Kayla Jacobsma, Relays Telecast Executive Producer,
klj008@drake.edu
;
Tory Olson, 515-271-1834,
tory.olson@drake.edu
Drake University's 2008 student-run Relays telecast will be broadcast live on TV and on the Drake Athletics Web site during the 99th running of the Drake Relays.
The telecast will be aired live on Mediacom College Channel 16, from 10 a.m. to 5 p.m. on Friday, April 25, and 10 a.m. to 6 p.m. Saturday, April 26.
Viewers also can log onto the Web site to watch live Web steaming on:
• Thursday, April 24 — 4 p.m. to 7 p.m.

• Friday, April 25 — 8 a.m. to 9 p.m.

• Saturday, April 26 — 8 a.m. to 6 p.m.
Those interested in the live Webcast can sign up for access on the Web site.


Drake celebrates 20 years of student-produced broadcast
Although the Drake Relays broadcast isn't an official class offered at Drake, students are using the opportunity to put their knowledge and skills learned in the classroom to use. And that's exactly what Drake Broadcasting System has been doing for two decades years now with this year's broadcast marking the 20th anniversary of the student-run production.
"You have your basic classes and get a great education from those, but this experience is real," said senior Kayla Jacobsma, executive producer of this year's Relays broadcast. "This is a sole student production. You can mess up, but you still have consequences if you do."
Jacobsma along with a staff of approximately 50 students are involved with planning, and producing one of the longest running and biggest student run broadcasts in the country.
Todd Evans, faculty adviser for DBS, said the amount of work that goes into making the production happen is more than can be asked for in a class.
"The students take ownership in their own production," Evans said. "They take the pride in it for the thousands of hours it takes to plan."
The production has grown over the years. When the group started 20 years ago, there were only three cameras. Now there are seven.
Overall though, Evans said that creating a good sports cast hasn't changed much over the years. "You still have to tell the story visually," he added, "and talk about the story in the most effective way."
For more information on Drake Relays, visit the Athletics Web site.