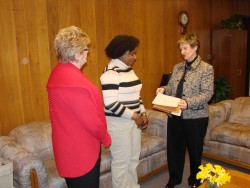 Linda Murphy, a member of PEO, presents Tisha with her scholarship as Dean McMahill watches.
Tisha Carter Smith, a third year education major, was the recipient of a scholarship from the organization PEO. The financial support was very much appreciated by Tisha who is balancing her studies at Drake with her family life in Minnesota.
Tisha is also part of the Teacher Quality Project, a joint effort between Drake University, Des Moines Area Community College, and Des Moines Public School with the goal to bring more high quality educators of minority background to the Des Moines Schools.