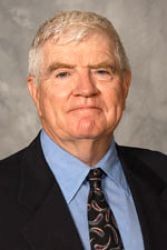 Tom Davis
CONTACT: Amy Smit, 515-271-2293, amy.smit@drake.edu

CHARACTER COUNTS! In Iowa will recognize former Drake Men's
Head Basketball Coach Tom Davis with the Robert D. Ray Pillar of Character
Award on Friday, April 11. The award will be presented at An All Star Evening
to benefit CHARACTER COUNTS! In Iowa, at the Hy-Vee Conference Center, 5820
Westown Parkway in West Des Moines.
"Dr. Tom Davis
exemplifies the type of person that this award seeks to honor. Throughout his
career, Dr. Davis has always exuded fairness, respect and responsibility,"
said former Gov. Robert Ray. "He has touched the lives of not only the
players he so diligently coached, but also their families, communities and,
ultimately, the entire state of Iowa. Collegiate basketball has been forever
touched by his guiding hand, keen insight and pursuit of excellence."
An All Star Evening event highlights
The evening will also feature a variety of athletes and
coaches who will help celebrate Davis' achievements. Attendees will include
Drake's Athletic Director Sandy Hatfield Clubb, Director of Community Outreach
and Development Dolph Pulliam and Men's Head Basketball Coach Keno Davis, son
of Tom Davis.
McAninch Corp., Iowa Health System and Wells Fargo are sponsoring the
All Star Evening. The event will begin with a reception at 5 p.m., followed by
a silent and live auction at 6 p.m., and dinner and the awards program at 7
p.m.
Live and silent auction items include autographed footballs,
basketballs, baseballs and jerseys, vacation packages, restaurant gift
certificates, electronic equipment, Drake basketball items and event tickets.
Davis: longtime coach and role model
Dr. Davis earned his
bachelor's degree from the University of Wisconsin-Platteville, master's degree
from the University of Wisconsin-Madison and doctorate from the University of
Maryland. Dr. Davis was the head coach at Lafayette College, Boston College,
Stanford University, the University of Iowa and Drake University.
While at Iowa, he led
the Hawkeyes to nine NCAA Tournaments, including a pair of Sweet Sixteen
appearances as well as an Elite Eight. He is the winningest coach in the
University of Iowa history.
He was named Drake
University's 23rd head basketball coach in 2003. In four short seasons, Dr.
Davis energized the Bulldog program and led Drake to a 17-15 record; including
winning the Big Four Series, Drake Regency Challenge and Sun Bowl Tournament.
In March 2007, Dr.
Davis announced his retirement from college coaching. His son, Keno, took over
as head basketball coach at Drake University. Dr. Davis' career included
sixteen 20-win seasons, eighteen post season appearances and he was named
Associated Press National Coach of the Year in 1987. He currently lives in the
Des Moines area with his wife Shari.
For more information
CHARACTER COUNTS! In Iowa is a project of the Institute for Character
Development at Drake University. Read more about the institute online.
For more information, contact Amy Smit, communication and
events director for the Institute, at 515-271-2293 or amy.smit@drake.edu.