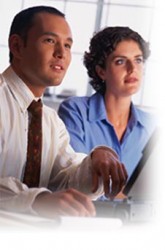 Drake offers new certificate programs for career advancement

New certificate programs in Business Management and Health
Leadership and Management are being offered to the general public for the first
time this spring.
Drake'sCenter for Professional Studies conducts
these programs, which will be taught by faculty in the College of Business and
Public Administration.
"Our faculty teach in Drake's evening graduate
programs," said Lance Noe, director of the Center for Professional
Studies. "They are experienced in creating an educational atmosphere that
integrates academic and experienced-based learning that is appropriate for both
new and experienced managers and leaders."
Participants who complete these new weekend programswill not only earn certificates from the center. They'll also receive one
credit hour for each program that can be applied to Drake's MBA and MPA
degrees.
"This is a great way to gain new knowledge that will
help advance your career and enable you to jump into an MBA or MPA
program," Noe said.
Health Leadership and Management
The Certificate in Health Leadership and Management will be
offered over a series of four weekends, on Friday evenings and Saturday
mornings, beginning April 25.
The program will address four broad areas of need that have
been identified as essential if individual health organizations are to continue
to provide good care in a changing environment. These are:
The need to motivate and lead people and groups
The need to enhance professional skills and knowledge
related to teams, communication and ability to influence change

The need to renew the organization

Charting the future in response to the problems of
survival and growth
Business Management
The new Certificate in Business Management is designed to
bring key elements of an MBA to professionals who want a better understanding
of business theories and practices. Those who complete the program will gain
key business competencies that will help qualify them to move into new
management roles.
This is the first time this program has been offered on
campus to the general public. The center previously designed customized
certificate programs in business management based on each company's mission and
needs.
The program will take place over a series of four weekends,
beginning June 6. Topics to be covered include:
Developing an Effective Leadership Style
The Essential Role of Marketing
Finance and Accounting for Strategic Decision-Making
Strategic Decision-Making in a Business Environment
For more information or registration for either new
certificate program, contact the Center for Professional Studies at
515-271-2592 or cps@drake.edu.