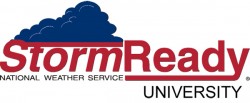 CONTACT: Lisa Lacher,
515-271-3119, lisa.lacher@drake.edu
With tornado season just around
the corner, Drake University has received StormReady® certification from the
National Oceanic and Atmospheric Administration's National Weather Service.

StormReady® certification
signifies that Drake is well prepared to safeguard its people and property from
severe weather. Drake is the first college or university in Des Moines — and
one of 23 in the United States — to be recognized with the StormReady®
designation.
Drake was officially certified as
StormReady® on Nov. 19, 2007, making it the third university in Iowa to join
the program. The University of Dubuque and Iowa State University also have been
certified and Grinnell College recently received its certification.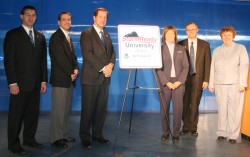 From left to right: Polk County Emergency Management Coordinator A.J. Mumm, Brad Small, Drake President David Maxwell, Brenda Brock, Jeff Johnson and Drake Safety Specialist Kris Rossmiller.
Weather officials praise Drake
At a news conference today, officials from NOAA's National Weather Service praised Drake for completing a set of rigorous criteria necessary to earn the distinction of being StormReady®.
"StormReady encourages communities to take a new, proactive approach to improving local hazardous weather operations and public awareness," said Jeff Johnson, warning coordination meteorologist at the National Weather Service Forecast Office in Des Moines.
"StormReady® arms communities and, in this case Drake University, with improved communication and safety skills needed to save lives and property — before and during the event."
"Safety is an important feature of campus life at Drake," said University President David Maxwell. "We can't prevent storms, but we can greatly reduce the chances that people might get hurt in storms. This recognition by the National Weather Service shows that we have taken the steps needed to do that."
President Maxwell accepted a recognition plaque and StormReady® signs from National Weather Service officials, including Meteorologist-in-Charge Brenda Brock.
Drake certification continues through 2010
Drake's StormReady® recognition will be in effect until 2010 when the University will go through a renewal process.
The StormReady® community preparedness program uses a grassroots approach to help communities develop plans to handle severe weather and flooding threats. The program is voluntary and provides communities and universities with clear-cut advice from a partnership between local National Weather Service forecast offices and state and local emergency managers.
As part of the certification process, Drake distributed 70 weather alert radios across campus. A $2,000 Community Betterment Grant from the Polk County Board of Supervisors funded 65 of the radios. In addition, all Campus Security officers received training as storm spotters.
StormReady® started in 1999 with seven communities in the Tulsa, Okla., area. There are now more than 1,300 certified communities across the country and 23 universities.
Additional information on the StormReady® program, which is a registered trademark used by the National Weather Service, is available at the following Web sites: