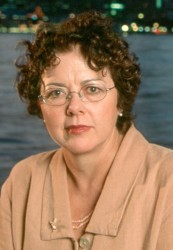 Laurie Garrett
Global health expert Laurie Garrett will present a lecture titled "Global Health in the New Millennium: Moving Ethics into Action" Saturday, March 8.

The talk will begin at 1 p.m. on Jordan Stage in Sheslow Auditorium in Old Main, 2507 University Ave. The lecture is free and open to the public.
Garrett is the author of "The Coming Plague: Newly Emerging Diseases in a World Out of Balance" and "Betrayal of Trust: The Collapse of Global Public Health." She is the only writer ever to have been awarded all three of the "Big Ps" of journalism: The Peabody, The Polk and The Pulitzer.
She currently serves as senior fellow for global health at the Council on Foreign Relations. As a global health expert, Garrett focuses on newly emerging and re-emerging diseases, as well as public health and their effects on foreign policy and national security.
Her lecture is part of The Center for Global Citizenship speaker series, which is sponsored by the Center for Global Citizenship.
The event is also part of Drake's Engaged Citizenship Experience series. The theme for the series is "Voices of Democracy: Dissent and Dialogue."
The Engaged Citizen Experience is a part of the Drake Curriculum, which aims to ensure students will learn to participate effectively in democratic processes through coursework and classroom and community activities. Students are required to earn a number of credits to fulfill the Engaged Citizen Experience.
For more information, contact David Skidmore at 515-271-3843 or david.skidmore@drake.edu.