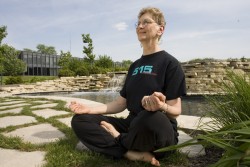 Patricia Prijatel
PEP Talks blog guides budding journalists
After 26 years of service to Drake, retired magazine professor Patricia Prijatel, GR'79, is well known for building and shepherding the magazine program, as well as being an extraordinary mentor.
One of the little things she's noted for is signing her memos and e-mails with her initials, PEP.
"Her acronym perfectly describes her energy and passion for magazines and helping students succeed in the world of magazines," said Angela Renkoski, assistant professor of magazines and director of the E.T. Meredith Center for Magazine Studies.
Prijatel takes her legendary ability to stay in touch with students and mentor them, to the next level with a blog, PEP Talks.
"I didn't want my retirement from teaching to mean giving up contact with students," Prijatel said. "This seemed like a fun way to retain connection." From her virtual abode at www.meredithmagstudies.com, she'll guide any student who's wondering what it takes to get experience, who's anxious about finding a post-grad job, or who's mired in any career-related or industry-related confusion.
Faculty and industry experts also can benefit from her wisdom to help mentor their own students. "We hope students and faculty will get regular PEP Talks for motivation, insight and encouragement," said Renkoski.
As she gets closer to her December graduation and applying for jobs, Briana Gehring, senior magazine and English writing double major from Waseca, Minn., says the PEP Talks blog is helpful and fun.
"It's really interesting to find out what is going on in the industry and to get different perspectives," Gehring said. "It's nice to hear what they're saying about how to get a job in magazines.
"The blog's language is fun. When Prijatel talks about Linked In, she says 'I'm 576 years behind electronically' — she makes it fun to read."
In her first postings, Prijatel interviewed former students in a variety of jobs about getting that all-important entry-level position and what managers are looking for. The blog is sponsored by the E.T. Meredith Center for Magazine Studies and is available on the meredithmagstudies.com Web site.
"We feel fortunate that our students can still benefit from her years of experience in the field of magazines and education," Renkoski added.