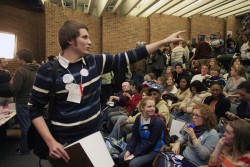 Drake students turn out in force for the Precinct 45 Democratic caucus in Olin Hall.
From giving interviews to helping set up shots for newscasts to participating in the Iowa caucuses, students, faculty and alumni grabbed a slice of history for Drake University on Jan. 3.


Up-close caucus experience

Although classes don't resume again until Jan. 22, Drake students from Illinois, Kansas, Oregon and other states returned to Des Moines to make their voices heard in the first round of the presidential selection process.
Drake opened up Olmsted Center so that students would have a place to stay after the caucuses. Three Democratic caucuses took place on campus — two in Harvey Ingham Hall and one in Olin Hall, which received live national news coverage through Fox News. A slide show of the Olin Hall caucus is available online.
Following the caucuses, approximately 30 students gathered in Olmsted to munch on pizza as they discussed their experiences and watched the returns.
Robb Krehbiel of McPherson, Kan., described his caucus experience at Olin Hall as "extremely traumatic but extremely exhilarating."
Krehbiel, a first-year student with a double major in environmental science and politics, first supported Chris Dodd. When Dodd didn't attract enough voters to be a viable candidate, Krehbiel joined the Joe Biden group, which still needed more supporters to be viable. So, then he moved to the uncommitted group and found himself besieged by supporters of several candidates.
"I had three different people pulling at me and a video camera staring me in the face," Krehbiel said. "I kind of freaked out. I wasn't prepared for that sort of chaos."
Despite the chaos, Krehbiel said, "I'm very glad I came back for this. I would probably do it again.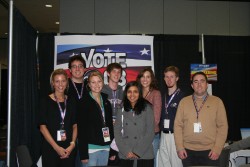 Susan Scieszinki, Matt Vasilogambros, Danielle Sauka, Tyler Boggess, Manisha Paudel, Shelley Russell, Brian Harrington and Noah Jackson worked for ABC during the caucuses.
Students gain experience working for news media
Some students returned to Des Moines not only to caucus, but also to work for various media outlets and presidential campaigns.
Shelley Russell, a senior from West Des Moines, Iowa, worked with ABC News during caucus week.
Meeting Chris Cuomo, ABC's Good Morning America anchor, was just one highlight of the experience, Russell said.
"I woke up at 3:30 a.m. (after only four hours of sleep), to get to the Drake Diner, where a crew was setting up to do a live shot at 6 a.m. CST," she said. "I talked with Chris for a little while about his experiences and one of the producers bought me breakfast."
Russell was also interviewed on a KSL radio network live radio broadcast about her experience as an Iowan seeing nearly 3,000 media personnel from around the world swarm Des Moines. "I told the listeners in Salt Lake City that it's awesome to get Iowa in the news — outside of being known for the Iowa State Fair."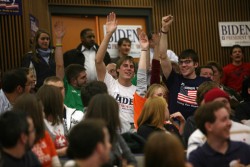 Voters raise their hands to be counted in the Olin lecture hall.
Chelsea Hicks, a sophomore from Portland, Ore., worked for the British Broadcasting Corp. and participated in the caucuses. Hicks, who has a double major in marketing and English writing, helped set up and conduct radio interviews at various sites in the Des Moines area.
"It was a great learning experience," she said. "Just seeing all the media outlets converging on Des Moines with all their people and equipment was amazing."
Brian Harrington, a junior from Hastings, Minn., said a highlight of the experience for him was seeing how ABC puts together a big broadcast.
"We had to run people back and forth to the airport, fix meals and deliver them to some of the teams in Hy-Vee Hall because they couldn't come back to the workspace," he said. "We assembled the chairs that Diane Sawyer and Sam Donaldson were using for their live broadcasts."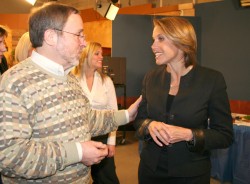 Dennis Goldford and Katie Couric discuss the Iowa caucuses.
Faculty strive to educate journalists, voters about the caucuses
Faculty members Dennis Goldford, Arthur Sanders and Rachel Paine Caufield of the Department of Politics and International Relations fielded myriad requests for interviews about the history, process and importance of the Iowa caucuses.
With wide-open races in both the Republican and Democratic parties, the Iowa caucuses drew unprecedented media attention as nearly 3,000 media outlets received credentials to cover the events.
Goldford estimated that he did more than twice as many interviews about the caucuses this past year as he did during the year leading up to the 2004 caucuses. His media appearances this cycle included the CBS Evening News, C-SPAN, NPR, Irish TV, the BBC, Australian TV and Al Jazeera English.
Goldford also served as political analyst for KCCI-TV on Jan. 3 and had the opportunity to discuss the caucuses with CBS Evening News Anchor Katie Couric when she toured the local CBS affiliate during the afternoon.
"Now that all the candidates and the media have gone off to New Hampshire, I think I'm suffering from postpartum political depression," Goldford said.
Sanders, who chairs the Department of Politics and International Relations, taught a course this fall on the Presidential Nomination Process that required students to complete an internship with a political campaign or caucus-related organization. One of his students, Jill Shesol, a junior from Mission, Kan., was featured in a front-page article in the Jan. 3 issue of USA Today under the headline "In the political trenches, volunteers toil for votes." The article is available online.
Students in the class shared some of their experiences and observations on the campaign trail through a blog posted on the University's Web site.
Randy Weigand, a junior from Wheaton, Ill., who interned for Republican candidate Fred Thompson, had this to say as he reflected on how campaigns seek and treat media attention and the way the candidates are portrayed by the media.
"There is often a vast difference between how the top tier candidates are portrayed and how the lower tiered candidates are shown," Weigand observed. "The national media as a whole is unsure of how to treat my candidate, Fred Thompson, mainly due to the fact that he entered the race so late … One of the major things that our campaign is concerned with is trying to get our candidate regarded by the media as a major player in the nomination race and to try and get him the respect that he deserves as a legitimate contender."
The blog is part of Drake's Iowa Caucus Project, which provided students with information about candidate appearances and volunteer and internship opportunities with campaigns. As part of the project, Drake partnered with IowaPolitics.com to conduct "Cookies and Conversation" events with candidates from both parties and a forum with campaign leaders that aired several times on C-SPAN in late December.
"Our goal was to increase student access to and awareness of the presidential campaigns," said Caufield, associate professor of politics and coordinator of the Iowa Caucus Project. "As citizens and as voters, Drake students had a unique opportunity to learn about the 2008 presidential candidates up close and personal."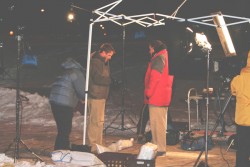 ABC's Glen Dacy confers with "Nightline" Anchor Terry Moran on Drake's campus.
Bringing Drake ties home to campus
Glen Dacy, FA'84, a producer for the Chicago Bureau of ABC News, directed ABC's "Nightline" live newscast that was anchored from the frigid, wind-swept Wifvat Plaza at Drake on Jan. 1.
"Nightline" Anchor Terry Moran stood in front of the Knapp Center as the wind chill dropped to -18 and announced that despite the cold weather, the political battle going on in Iowa was a "barn burner — too close to call on both sides."
Moran has a previous connection to Drake. His brother, Rick, graduated from Drake with a bachelor's degree in theatre arts in 1976 and now works as a writer and online political commentator in Algonquin, Ill.
Dacy said he got his start in broadcasting as a student intern for CBS News during the 1984 Iowa caucuses. "I've come full circle," he said.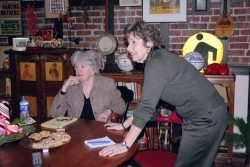 Maddy Maxwell, right, confers with Linda Wertheimer before the debate.
The Maxwells open their home to national media
Drake President David and Maddy Maxwell graciously opened their home to national news media covering the caucuses.
NPR's Linda Wertheimer interviewed about a dozen women voters after they gathered at the Maxwell house to watch the Democratic presidential debate sponsored by the Des Moines Register and Iowa Public Television. Afterwards, Wertheimer questioned the women about their reactions to the debate and which candidates they planned to support in the Iowa caucuses .
The spirited conversation that followed lasted nearly an hour and covered myriad issues. The women discussed the electability of Senators Hillary Clinton and Barack Obama, as well as the effectiveness of endorsements from celebrities ranging from Oprah Winfrey to Bonnie Raitt to Norma "Duffy" Lyon, longtime creator of the butter cow sculptures at the Iowa State Fair.
Wertheimer condensed the comments into a story that aired on NPR's "Morning Edition" Friday, Dec. 14. She noted in the story that the debate watch party took place at the home of the president of Drake University.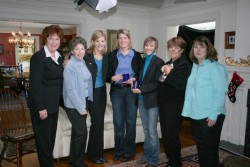 Gathered in the living room of the Maxwell house are Laurie Theis, Maddy Maxwell, Kate Snow, Meg Joseph, Jean Walker, Loretta Siemon and Joanne Roth.
A few days later, Kate Snow of ABC's "Good Morning America" interviewed a group of women voters at the Maxwell home for a story on the Iowa caucuses that aired Dec. 22.
"We often say Drake University is the place where people gather to discuss the important issues of the day and that applies to our home as well," Maddy Maxwell said. "We're happy to host these important and fascinating discussions about the process of selecting our next president."