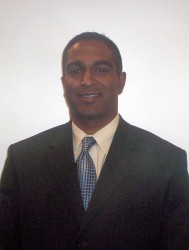 Ben Thankachan, manager of talent services and campus relations for Wal-Mart, spoke to CPHS students, faculty and staff in October as part of the student leadership series.
Wal-Mart partnership sparks student leadership and entrepreneur programs
Students in Drake's College of Pharmacy and Health Sciences will
gain leadership and entrepreneurial skills through a two-prong program
funded through a new three-year pledge and partnership with Wal-Mart.
"We are very excited to be a partner with Drake and are thrilled
that the program is showing the promise that it has," said Mike
Peerson, director of talent services and corporate relations at
Wal-Mart.
The student leadership development program provides students with
the opportunity to hear scholars and professionals in pharmacy and
health sciences as well as other fields speak about leadership. Once a
month, a speaker visits campus to talk to CPHS students, faculty and
staff.
In addition, the 30 student leaders in Drake's CPHS organizations,
fraternities and advisory board, meet for an hour before the speaker
presents to talk about leadership.
"We want students to take what they learn in small group meetings
and what they hear from speakers and use that in working with their
organizations," said Allison Reich, director of student programs for
CPHS. "It is a really great group of students who are motivated hard
working. It's obvious why they are leaders in their organizations."
"The student leadership program is really great! It brings all the
pharmacy student leaders together to collaborate and share ideas on
their different styles of leadership," said Lindsay Krahmer, president
of the student pharmacy group DRxUGS. "These sessions have helped me
grow stronger as a leader and envision how I plan to use my leadership
skills in the future as a professional pharmacist.
"This program exposes students to the very basics of leadership,"
Peerson added, "but also gives them additional tools, such as
delivering powerful presentations and other useful ideas that will help
them beyond the practice of pharmacy."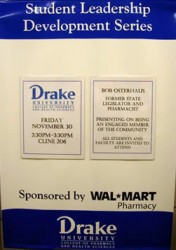 In addition, Wal-Mart's commitment also provides funding for
Drake's Next Top Entrepreneur Competition, which will also be supported
by the National Collegiate Innovators and Inventors Association this
year. It is a program of the DELTA Rx Institute, which serves as an
information repository for Drake students and the national pharmacy
community, showcasing achievement, tools and stories about
entrepreneurship.
The competition, which premiered in spring 2007 during National
Entrepreneurship Week, challenges students to use entrepreneurial
leadership skills to solve health care-related problems. In 2007 the
winning business plan was an on-site clinic for genetic cancer testing,
screening and early prevention plans.
Students compete in rounds where top performers advance to the next
round. Each round requires either a presentation of a health care idea
or impromptu solution to a health care problem or a business plan for a
new health care endeavor. Jurors representing pharmacy, business and
health care judge the participants. The top three winners are awarded
cash prizes. Contest winners will compete in the National Community
Pharmacists Association (NCPA) Pruitt-Schutte Student Business Plan
Competition with the opportunity to travel to attend the NCPA annual
meeting with expenses paid by Wal-Mart's gift.