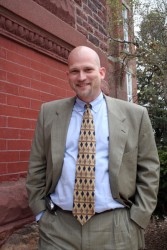 Timothy Johnson
Graduate students take on management projects for Blank Park Zoo
In a business world where more than two thirds of projects end in failure, Timothy Johnson's Project Management class is teaching students to develop the skills they need to be successful.
The Management 286 class is a master's level class where students work in teams of four to five students to create business projects for not-for-profit organizations. This semester's class worked with Blank Park Zoo to offer free consulting and business projects in food service, membership, expansion and education.
"This is a great way to teach management and a win-win situation for students and Blank Park Zoo," said Johnson, visiting assistant professor in Drake's College of Business and Public Administration since 2000. "The students get a real life experience on very real and critical projects and the not-for-profit receives free consulting from some very sharp minds."
The class is structured around teaching students how to communicate, develop good work ethic, balance small details with the big picture and acquire strong problem-solving skills, to ensure their success in the real world.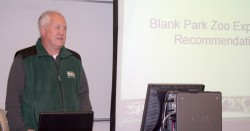 Blank Park Zoo CEO Terry Rich
Students presented their projects on Dec. 8 for their class final to Blank Park Zoo CEO Terry Rich, who recorded the presentations to present to zoo team members.
"This is about as invigorating as anything I've done in a long time," Rich told students after the presentations. "I love this because it is fun and you presented different but unique projects and are all thinking the right way.
"You'll get a sense of your fingerprint on this as a real world experience," Rich added. He invited students to come out to the zoo and see some of the results of project recommendations.
Students also found the class valuable and enjoyed working on projects for the zoo.
"Thank you for this real-world opportunity," said Emily Hogberg.
"This class provides students with an incredible learning experience," said Matt Olson, BN'98. "It also enables a non-profit organization like the zoo to have a fresh perspective and assistance on the work it has to accomplish with limited resources.
"I couldn't be more pleased with what I have learned in Project Management; this is exactly why I returned to Drake once again for my education."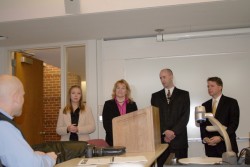 Amanda Waldstein, Karen Smith, Matt Olson and Sean McCollough present expansion plans.
One project focused on the zoo's expansion, which has been a major issue over the past few years. The team outlined the pros and cons of expanding in several different areas including Ankeny, West Des Moines and even partnering with Living History Farms in Urbandale.
Team members Matt Olson, Karen Smith, Amanda Waldstein and Sean McCollough presented their recommendations for the zoo's expansion in its current location on the south side of Des Moines. The plan meshed with current expansion proposals, and included the addition of land from A.H. Blank Golf Course and Ft. Des Moines Park. A partnership with Southridge Mall would also offer a connecting tram service from the mall to the zoo.
"We looked at what would give you the greatest good for the least amount of money," Waldstein said.
Along with expanding the zoo, the team also recommended building new exhibits following a four-phase project outlined by T. Montgomery Consulting, who drew up a plan for the zoo's expansion. The plan included a new African and American exhibit with new animals, a new wilderness entryway and parking lot with trams along with other updates and renovations.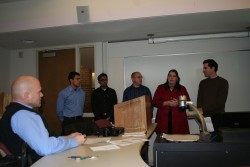 Pedro Salazar, Siddharth Jain, Jerimi Kopsa, Susan Kloewer and Gary Main present membership plans for the zoo.
With the new attractions drawing more visitors from expansion, the membership team

proposed an increase in membership and gate costs as well as marketing strategies to drive memberships and revenue.
In addition to changing membership and gate costs, the membership team also encouraged a modification in the partnership with the Henry Doorly Zoo in Omaha, Neb. The new plan would offer reciprocal free admission for members of both zoos in hopes to entice more visitors from Omaha.
Team members Siddharth Jain, Susan Kloewer, Jerimi Kopsa, Gary Main and Pedro Salazar also suggested offering more frequent events to attract new visitors.
On the other hand, instead of increasing the number of educational events offered, the education team recommended that the zoo build on the quality of the existing on-site and off-site programs, camps, internships and home-school programs.
To increase the quality of the programs, the team of Emily Hogberg, Travis Ouverson, Dana McVey, Alexson Kane and Bob Loch, presented a plan to modify the structure of programs offered to better meet the ability and availability of staff members.
Once the structure is there, the education team suggested repackaging and marketing programs to key audiences made up of current participants and potential participants by better utilizing media outlets. "There is a lack of clear marketing and messaging," Kane said.
To create a clear message, the team designed a new promotional strategy that aims to increase participation and revenue. The project also suggested that the zoo implement more corporate sponsorships and train staff to use sales strategies to sell programs.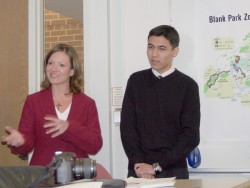 Kate Affield and Alimjan Akayev discuss project plans for the zoo's food service.
With the influx from expansion, membership and education programs, the food service team designed a plan that will help make Blank Park Zoo ready for change.
The team of Pam Smith, Jill Carson, Nancy Johnson, Alimjan Akayev and Kate Affield, presented a plan to improve the quality of food service with a recommendation to outsource food service to Service Systems Associates, a third party supplier of food service alternatives for other zoos across the nation.
SSA would absorb current food service employees, train, hire and manage the food service team, oversee all food, facilities, marketing and menus, and offer benefits, which the zoo doesn't currently offer employees.
The plan also suggested relocating the Tortoise exhibit to make room for a new snack shop, as well as adding more mobile food carts and upgrading facilities.
"You are right on target," Rich said. He asked students to provide contact information for SSA and advised that the zoo would look into its services.



In addition, all teams outlined the impact of projects on the other teams and stakeholders and presented alternate plans based on the zoo's decision to follow recommendations, as well as offering timelines for the zoo to follow.
"This is very exciting," Rich said. "It all ties together when all is said and done."
"Students learn how to coordinate related projects across teams in project portfolio management," Johnson said. "Very few project management courses can provide this 'real life' experience."