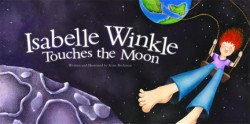 Katie Beckman's "Isabelle Winkle Touches the Moon" was inspired by her cousin Erica.
Bedtime story by Drake alumna supports family literacy



By Charley Magrew
When she wrote and illustrated the bedtime story "Isabelle Winkle Touches the Moon," Drake alumna Katie Beckman, AS'02, didn't know where the story would end up and what impact it might have.
Beckman's story placed third in the 13th annual Half Price Books annual Bedtime Storybook Contest. It was published among 20 other stories featured in Half Price Book's 13th edition of "Say Good Night to Illiteracy," a children's bedtime storybook sold at the bookstore chain with all proceeds benefiting the National Center for Family Literacy.
Since its founding in 1972, Half Price Books has supported literacy through the Bedtime Storybook Contest, which is open to authors of all ages. The contest focuses on poems and stories for children ages 8 and younger.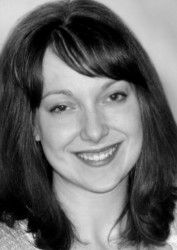 Katie Beckman
Beckman wrote and illustrated the piece during her senior year at Drake, as part of an independent study in graphic design.
"I was inspired by my cousin Erica, a curly-haired girl much like
Isabelle Winkle who was always creating, imagining and looking at the
world in wonder," Beckman said. "I've always loved fantasy stories; the
kind that pull you into different worlds and adventures. In my story,
Isabelle Winkle is a free-spirited girl, who turns an ordinary activity
into an exciting journey."
She created 15 illustrations for her own book and one more illustration especially for the storybook.
"It was an interesting way to merge her interests in graphic design
and writing," said John Fender, assistant professor of graphic design,
who oversaw Beckman's independent study. "I always thought she should
shop the book around, and it's great to find out it was recognized."
Currently an assistant art director at Meredith Corp. in Des
Moines, Beckman works on Do It Yourself magazine, planning photo
shoots, layout of the publication and seeing it through production.
In her spare time, Beckman continues to write and illustrate
children's stories. Her next piece, is expected to be completed by fall
2008, is titled "Hat Stand in the Attic." She says it is "a magical
story about a little boy who finds hats to try on that take him to
different worlds."
For more information, visit Beckman's Web site. Additional information on winners is available online.