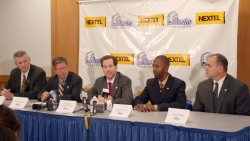 From left: Al Lorenzen, Greg Edwards, David Maxwell, Brian Brown and Mark Kostek at the news conference.
Drake awarded 2010 USA Track & Field Outdoor Championships
The $15 million investment in the renovation of Drake Stadium by Drake University and the Greater Des Moines community continues to produce dividends.
Drake President David Maxwell announced during a Dec. 13 news conference that the school and city of Des Moines will join forces to welcome America's best athletes to Drake Stadium for the 2010 USA Outdoor Track and Field Championships.
The USA Outdoor Track and Field Championships is USATF's premier event for the selection of elite professional athletes to represent the United States in outdoor international competition, including the World Outdoor Track and Field Championships.
"When we completed the $15 million renovation of Drake Stadium in 2006, we envisioned that the facility would make Drake and Des Moines the Midwest capital of track and field," Drake President David Maxwell said.
"We were delighted to host the 2007 NCAA Midwest Regional Outdoor Track and Field Championships last May and look forward to the NCAA Championships in 2008 and the USA Outdoor Track and Field Championships in 2010. These events are a huge plus not only for Drake but also Des Moines and Iowa as a whole."
More than 1,000 athletes, including the best track and field performers in the United States will compete in the meet. Six hundred to 800 junior athletes also will perform.
"For several years, we have wanted to bring one of our premiere events to Drake Stadium," said Craig Masback, chief executive officer for USA Track and Field. "The Drake Relays is truly a community event with phenomenal fan support, and that community spirit shone through in Des Moines' bid. We look forward to building a very strong community partnership with local organizers for what will be an outstanding 2010 USA Outdoor Championship."
Athletes competing at the 2010 USA Outdoor Championships, which will be held June 23-27, will be competing for national titles and roster spots for the 2010 IAAF World Cup in Athletics in Split, Croatia.
In addition, the USA Junior Championships, for athletes 19 and under, are staged concurrently with the "open championships" and select teams for junior international competitions.
"Drake University is thrilled to have the opportunity to partner with the city of Des Moines to bring this prestigious event to the state of Iowa," said Drake Athletic Director Sandy Hatfield Clubb. "The support that the track and field fans of central Iowa have shown in attending events at Drake Stadium was a paramount factor."
USA Track and Field officials estimate the event will have a $5 million to $7 million economic impact, with the meet being televised live by a national network, coupled with a throng of national and international media.
"This is more great news for Drake University and Greater Des Moines," said Greg Edwards, president and chief executive officer of the Greater Des Moines Convention and Visitors Bureau. "This is another strong indicator that Drake's Stadium renovation is paying off for all of our community."
Drake Relays Director Brian Brown said landing the USA Championships validates Drake and the state of Iowa in hosting a high-caliber event.
"As a winner (high jump in 1989) at the USA Outdoor Championships, I'm absolutely thrilled that we can showcase this event in Iowa," said Brown. "We're going to provide an experience for fans and athletes that they will long treasure."