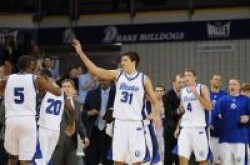 Jonathan Cox, center, scored 19 points against Evansville.
Men's basketball team off to best start in Drake history
The Drake men's basketball team held off Evansville, 71-68, to earn its
11th straight victory on Sunday, Jan. 6, and improved its record to
12-1 overall — the best start ever in school history. It also
marked the first time since the 1982-83 season that the Bulldogs have
opened the Missouri Valley Conference campaign with a 3-0 record.
The winning streak is the longest at the school since the 1969-70 team, under coach Maury John, also won 11 straight games.
The Bulldogs shot 68.2 percent from the floor in the second half,
making 15 of 22 shots, to erase a 32-30 halftime deficit.
Junior forward Jonathan Cox made seven of eight shots from the floor,
while grabbing a game-high nine rebounds and blocking a career-high
five shots. Senior guard Adam Emmenecker enjoyed his first career
double-double with a career-high 10 points and a career-high 10
assists.
Evansville became the 11th straight Drake opponent to shoot 40
percent or less from the field. The Purple Aces, who fell to 5-8
overall, including an 0-3 league mark, hit just 38.2 percent from the
floor in the second half while finishing the game at 40 percent.
On Jan. 2 Drake won its 10th straight game with a 61-51 victory
over defending Missouri Valley Conference champion Southern Illinois,
breaking the Bulldogs' 17-game losing streak to Southern Illinois.
More than 6,800 fans gathered to watch the Bulldogs earn their first
victory against the Salukis since a 64-60 triumph Feb. 17, 1999.
The Jan. 2 game was the 10th straight home victory, which is the
longest winning streak in the 15-year history of the Drake Knapp
Center. It is also the third longest in school history, trailing
winning streaks of 18 from 1962-64 and 23 from 1969-71.
For the fourth straight week, the Drake men's basketball team received votes in the latest Associated Press Top 25 college basketball poll released Monday, Jan. 7.
The Bulldogs, riding an 11-game winning streak, were tied for No. 31 with Brigham Young, receiving 22 votes in this week's poll. Drake earned eight votes in the Dec. 31 poll, while receiving three votes in the Dec. 24 poll and six votes in the Dec. 17 poll.
Drake will host co-Missouri Valley Conference leader Indiana State this Wednesday, Jan. 9, in a 7:07 p.m. tipoff in the Drake Knapp Center. All general admission seats are $1 as well as hot dogs and popcorn.