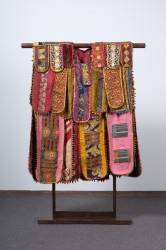 Yoruba ceremonial Egungun dance costume, Nigeria.
Drake University's Anderson Gallery will feature "Woven Traditions: Central and West African Textiles," an exhibition of 40 traditional African textiles from the collection of Drake faculty members Lenore Metrick-Chen and Phillip Chen.
The exhibition, which opens with a reception from 5 to 7 p.m. Friday, Jan. 25, is curated by Edwina Brandon, director of development and external affairs at the Des Moines Art Center. Metrick-Chen, assistant professor of art history, and John Monroe, assistant professor of history at Iowa State University, will lead a gallery talk at 6 p.m.
"Woven Traditions: Central and West African Textiles," which will continue through Feb. 22, encompasses textiles from West and Central Africa, including works by the Ashante, Yoruba, Nupe, Bamana, Kuba and Pygmy peoples.
"The range of textile design techniques will include weaving, applique and both direct and resist-dye drawing methods," said Phillip Chen, associate professor of art and design.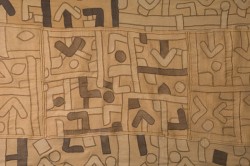 Kuba appliqué skirt, embroidery and cut pile, The Democratic Republic of the Congo, 17 x 18 in.
Seldom-seen examples of Pygmy bark cloth drawing will be displayed, a rare and brilliantly colorful Nigerian dance costume along with a 20-foot Kuba skirt from the Democratic Republic of the Congo.
The Kuba wrap skirts, which are woven by men and patched by women, are made from 100 percent raffia palm leaf fiber. Once the stiff cloth is woven, it is softened by a pounding process, which creates holes in the cloth. Women patch the holes with appliqué for functionality and decoration. The resulting symbols and patterns form a visual language that can be understood by initiated individuals amongst the Kuba.
"In the '70s and '80s most African collecting consisted of ceremonial statues and masks with religious significance," Chen said. "There were visually interesting and under-appreciated African household objects more readily available."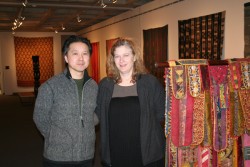 Phillip Chen and Lenore Metrick-Chen.
Chen and Metrick-Chen started collecting African textiles and art in 1985, as they were less costly than statues and masks. They traveled throughout the United States to Chicago or New York to acquire pieces from commercial galleries and merchants from West Africa.
In addition, Chen said some of the textiles in the collection were gifts. "While I was teaching at the University of Chicago, Illinois, one of my students from Nigeria brought me gifts of his grandmother's wraps and kept an eye out for other pieces for me," he added. "It is a tradition in many cultures to bring gifts for teachers, and he knew I enjoyed collecting and examining pieces from around the world."
The opening reception and exhibition are free and open to the public. Gallery hours are noon to 4 p.m. Tuesday through Sunday. The Anderson Gallery is in the Harmon Fine Arts Center, 25th Street and Carpenter Avenue.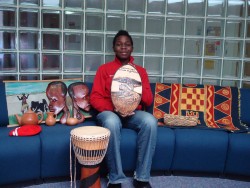 Cliffton Murove presents African crafts that will be displayed at the Weeks Gallery.
In conjunction with the African textiles exhibit, Drake Students in Free Enterprise (SIFE) will have a display of African arts and crafts in the Weeks Gallery upstairs from the Anderson Gallery. The exhibit, which is part of SIFE's "Constructing Bridges Across Global Societies Initiative" aimed at teaching the community about global issues and equipping people with tools necessary to succeed in a global environment, will be on display from Friday, Jan. 25 through Friday, Feb. 15.
The exhibit will include items that students and faculty have brought back from travels primarily to Uganda such as wooden crafts, paintings, textiles, sculptures and other works of art. A film called "Bamako," which discusses global trade issues, will also be shown during the exhibition.
"We were trying to create a project that would allow us to increase awareness about socio-economic issues in Africa as well as creating an opportunity for us to help a school in Uganda," said SIFE President Cliffton Murove, a senior economics major from Zimbabwe.
"We decided to create an Art Exhibition comprising work from virtually unknown African artists to recognize and display their creativity as the only means through which they can raise an income as their work is sold mainly in markets on the streets."



The Drake SIFE students will participate in the opening reception on Jan. 25 and will collect donations for supplies for a primary school in Uganda.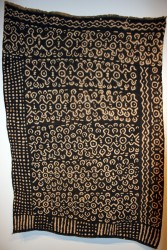 Bamana mud cloth, Mali.
In addition, African art scholar and Kuba textile expert Patricia J. Darish will give a public lecture at 5:30 p.m. on Friday, Feb. 8, in room 336 of the Harmon Fine Arts Center, 25th Street and Carpenter Avenue. The lecture, which is titled "The Leopard Spots: Surface Design and Raffia Textiles of the Kuba," will follow with a reception and gallery talk at the Anderson Gallery. This event is made possible by a grant from Drake's Center for the Humanities.
For more information, contact Heather King, Director of the Anderson Gallery, at 515-271-1994 or at heather.king@drake.edu.