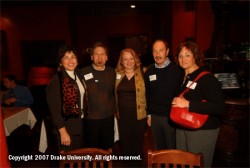 Camaraderie, cuisine, comedy characterize Chicago event
In December, More than 60 Drake alumni and friends gathered for gourmet at Socca, prepared by head chef and former Drake student Roger Herring, and then enjoyed a hilarious Comedy Sportz performance featuring Tim Ryder, JO'05. Great company, cuisine and comedy – it doesn't get any better than that!
In the photo, Diane Caldbeck, ED'72, associate vice president for advancement, welcomes Keith Carlson, BN'75, Ruth Richardson Carlson, LA'75, Dick Worcester, LA'71, GR'74, and Linda Anderson Worcester, ED'73. View more photos from this and many other Drake alumni events online.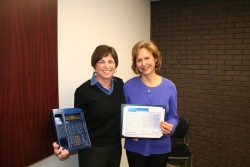 Diane Caldbeck accepts "Called to be True Blue" award from Barb Dietrich Boose, who nominated Caldbeck for the award.
Caldbeck recognized for 'Called to be True Blue' award
Drake University's All Staff Council Recognition Committee presented a "Called to be True Blue" award on Dec. 3 to Diane Caldbeck, associate vice president for Alumni and Development.
"As she has demonstrated throughout her distinguished career at the University, Diane knows Drake," said Barb Dietrich Boose, director of Alumni and Parent Programs, who nominated Caldbeck for the award.
"She understands its alumni, deeply loves its history and heritage and proudly and effectively promotes its qualities and strengths to her fellow alumni, parents, friends, community members and current and prospective students."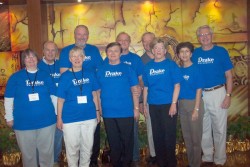 Drake alumni explore China's past, present, future
Last November, these and other Drake alumni and friends experienced the sights, history and culture of China, from Tiananmen Square to the Great Wall to the terra cotta army of Xi'an. The trip was among several offered annually by the Drake Office of Alumni and Parent Programs and Go Next. To see other places you can go with fellow alumni, visit the Web site or contact Emily Weaver, assistant director of alumni and parent programs, at 800-44-DRAKE, x3155, or emily.weaver@drake.edu.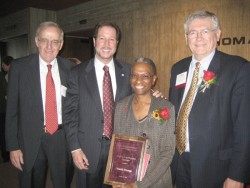 Don Adams, Drake President David Maxwell, Wanda Everage and Larry Ebbers.
Even Wanda has mentors
Wanda Everage, LA'72, known to countless Drake students and alumni as a mentor extraordinaire, was surrounded by some of her own mentors last fall when she was named Virgil S. Lagomarcino Laureate by the Iowa State University College of Human Sciences for outstanding work in the field of education: In the photo, she appears with Don Adams, recently retired Drake University Fellow; Drake President David Maxwell; and Larry Ebbers, Everage's doctoral adviser and professor of educational leadership and policy studies at Iowa State.
The Lagomarcino Laureate designation is bestowed to Iowa State alumni who are nationally and internationally recognized for meritorious service or distinguished achievement in the field of education. Ebbers nominated Everage and described her as "a champion for people of color and the underserved."
Everage, vice provost for student affairs and academic excellence at Drake University, received her bachelor's in Sociology from Drake University, and her master's in Educational Administration and doctorate in Academic Affairs in Higher Education both from Iowa State University.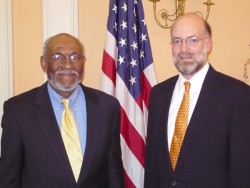 Drake alumni Ambassadors Johnnie Carson and Ron McMullen
Bulldog ambassadors advance diplomacy
Drake alumni Ambassador Johnnie Carson, LA'65, left, and Ambassador Ron McMullen, LA'78, paused for a photo at the State Department in November. Carson, the national intelligence officer for Africa at the Office of the Director of National Intelligence, is a rare three-time envoy, having served as U.S. ambassador to Zimbabwe, Uganda, and Kenya. McMullen is the current U.S. ambassador to Eritrea. The photo was taken at McMullen's ambassadorial swearing-in ceremony.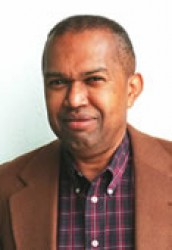 Larry Whiteside
Alumnus honored with national sports writing award
Even after his death in June, Drake alumnus Larry Whiteside's legacy lives on. He was honored as the 59th recipient of the J.G. Taylor Spink Award, given annually to honor baseball writers "for meritorious contributions to baseball writing" by the Baseball Writers' Association of America.
Whiteside, known to many as "Sides," graduated from Drake in 1959 before moving to Boston, where he spent much of his 30-year career as a sports beat writer. At the time he was hired to write for the Boston Globe in 1973, Whiteside was the only African American reporter covering a major league baseball team for a major newspaper on a daily basis.
Before Whiteside joined the Boston Globe, Major League Baseball commissioner Bud Selig wanted to hire him to be the head of public relations for the Milwaukee Brewers.
In an interview with the Boston Globe, Selig said, "[Whiteside] was one of the fairest reporters I ever encountered. He was a friend to me and I was a friend to him."
The award was named for J.G. Taylor Spink, a baseball writing force behind The Sporting News, and is presented at the Hall of Fame Induction Ceremony in Cooperstown, N.Y.