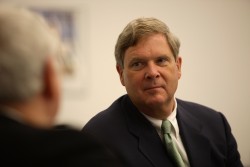 Former Iowa Gov. Tom Vilsack
Visiting Distinguished Professor
of Law and former Iowa Gov. Tom Vilsack will present an address about health
care, titled "Archimedes Had a Point," on Wednesday, Jan. 23. The
lecture, which is free and open to the public, will begin at 4 p.m. in room 213
of Cartwright Hall, 2621 Carpenter Ave.

Vilsack was appointed
visiting distinguished professor of law by the Drake Law School in January
2007. In that role, he visited and participated in a number of classes; gave
the keynote address at the spring 2007 Constitutional Law Symposium; co-taught
a course with Neil Hamilton, the Dwight D. Opperman distinguished professor of
law, focusing on rural development and rural livelihoods; and participated in a
conference on renewable energy co-sponsored by the Law School and the
Association of Patent Law Firms.
This fall, he gave an
orientation address for entering law students and participated in a panel
discussion afterwards on "Responding to the Call of Public Service."
He also convened a conference on "Risk and Responsibility in the 21stCentury" and both spoke at the conference and moderated discussions among
the nationally prominent speakers.
"It has been extremely
enriching to have the governor as visiting distinguished professor at the Law
School, and we've been very grateful for this association," said David
Walker, dean of the Law School.
Vilsack was elected the 39th
governor of Iowa in 1998 and is the former chair of the Democratic Governors'
Association. He has also served as chair of the Democratic Leadership Council.
His career is marked with significant improvements and transformations in
issues dealing with the economy, education, health care and sources of renewable
energy.
Prior to being elected governor,
Vilsack practiced law in Mt. Pleasant, Iowa, served as an Iowa state senator
from 1992-98 and was mayor of Mt. Pleasant from 1987-92. He received a
bachelor's degree from Hamilton College in Clinton, N.Y., in 1972 and a law
degree from Albany Law School in 1975.