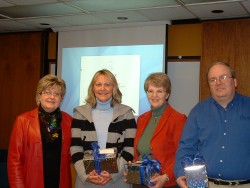 Dean Janet McMahill recognized the dedication and tremendous successes of the Drake University Resource Center for Issues in Education staff members during a special ceremony. The Resource Center closed its doors for the final time on Thursday, December 20 when funding for its current grant project ended. The Resource Center has been housed at Drake University School of Education for more than 30 years where it conducted a variety of special education projects and programs.
"The Resource Center staff members are outstanding educational professionals who have shown a true devotion to the research projects they have overseen during the past 30 years. I'm honored to say that Drake has been able to work with these dedicated individuals and their wonderful work for so long," Dean McMaill said as she presented each with a gift of appreciation. The Resource Center's staff includes Mary Bartlow, project liaison; Deb Thomas, training coordinator; Marion Panyan, co-director; Carl Smith, co-director; and Bob Perry, office manager.
The Resource Center's current project, the Iowa Behavioral Alliance, is a five-year grant from the Iowa Department of Education. IT addresses the needs of students in Iowa public schools through positive behavioral supports (PBS), dropout prevention programs, and access to mental health services. When the program began, it's goal was to establish PBS teams in 60 area schools, but that goal was surpassed within a couple of years. The Alliance concludes its grant with support teams in 160 schools.
The Resource Center was first created in the 1970s by the Bureau of Education for the Handicapped (now called the Office of Special Education Programs) as one of 12 regional resource centers. The center at Drake was called the Midwest Regional Resource Center and served the states of Iowa, Kansas, Missouri, and Nebraska. In 1983, the 12 centers were collapsed into 6 and the Midwest Regional Resource Center merged with Intermountain Regional Resource Center at Utah State University with the new name Mountain Plains Resource Center. Under this new arrangement, the Drake Resource Center served as a subcontractor for projects in the Midwest region. In 1998, the program was reconfigured again. Supervision of Iowa and Missouri projects shifted to the Great Lakes Regional Resource Center and the Drake Resource Center ended its sub-contract arrangement. At that time, the Drake Resource Center still held several grants with the Iowa Department of Education and their work continued. In 2001, the Center began its final major grant project for the Iowa Department of Education, the Iowa Behavioral Alliance. The Iowa Department of Education plans to continue to utilize the Alliance's research and support the PBS teams after the Resource Center closes.
For more information about the Iowa Behavioral Alliance, visit http://www.educ.drake.edu/rc/alliance.html