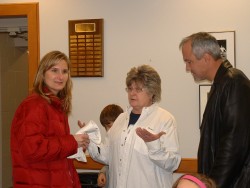 On November 14, approximately 75 SOE faculty, staff, friends and family enjoyed an evening of Drake basketball, fun and free food.
Before tip off of the game between Drake's men and Cornell, the SOE friends and family were treated to free food and given bulldog key chains specially made for the event. An announcer recognized the SOE members during half-time.
The event was organized by the new SOE social committee, which consists of Debbie Dodge and Bridget Arrasmith, both administrative assistants in the SOE. It was such a success, the committee is currently planning similar evenings for other sports.