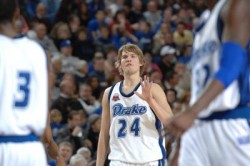 Klayton Korver
Seniors Leonard Houston and Klayton Korver combined for 45 points as Drake held off Duquesne, 77-73, to capture the championship of the Iowa Realty Invitational Saturday night.
The Bulldogs held Duquesne, which entered the game leading the NCAA in scoring offense with a 95.5 average, to its second lowest point output of the season, while handing the Dukes their first loss in seven games.
Houston was named the most valuable player of the tournament after tying a career high with 23 points.
Korver finished with 22 points, including 14 in the first half. He made five three-point baskets while moving into a tie for third on the Drake career three-point list with Matt Woodley (1997-2000) at 169.
Clinging to a 65-63 lead with 4:11 left, the duo of Houston and Korver scored Drake's last 12 points of the game.
"This win is something we can build on," said first-year Drake coach Keno Davis. "It showed the character of the team that we didn't fold and stayed together down the stretch. I don't know if we can get better on the effort we showed for 40 minutes."
Drake, in the midst of a five-game homestand improved to 5-1 entering a Wednesday game against Iowa State.
Houston, who had seven points down the stretch, started the surge with a three-point basket with 4:10 left pushing Drake's advantage to 68-63.
After a three-point basket by Bill Clark pulled Duquesne to 68-66, Houston answered with a jumper and then Korver nailed two free throws with 2:24 remaining to give the Bulldogs a 72-66 lead.
A layup by Duquesne's Gary Tucker cut Drake's lead to 72-70 with 42 seconds remaining.
Korver, who was also named to the all-tournament team, drilled a three-point basket from the right baseline with 13 seconds left. Houston added two free throws with two seconds left on the clock.
"We beat a very good team and the game could have gone either way," Davis added. "They made a run down the stretch and we were fortunate to come out on top."
Drake, which leads the Missouri Valley Conference in three-point baskets, made 11 three-point baskets, which were the most allowed by Duquesne this season.
Korver's jumper with 17:36 left in the game staked Drake to its biggest lead at 55-43.
Drake hit 51.4 percent from the floor en route to owning a 51-43 halftime lead. The 51 points were the most Drake has achieved in the first half of this season.
In addition, Shawn James had 16 points, 11 rebounds and five blocked shots; Drake sophomore guard Josh Young added 11 points; and senior guard Adam Emmenecker tied a career high in assists for the second straight game with seven while also tying a career high with seven rebounds.