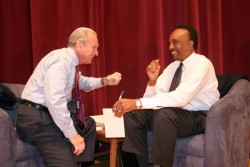 James Autry and Clifton Taulbert reminisce of childhood memories in Mississippi.
Authors share Southern charm; bring a story of diversity to SJMC
When James Autry and Clifton Taulbert first met, both men were impressed with their similarities, despite their backgrounds' experiencing racism from different perspectives.
"We're both sons of the South and bonded ever since we met a decade ago," Autry said.
Drake's School of Journalism and Mass Communication invited Autry and Taulbert to tell their stories of racism and life in the South in an evening of storytelling at the annual Community in Diversity lecture Nov. 13.
Autry is a renowned author of 10 books and a former Meredith Corp. executive who grew up in a segregated town in the '50s.
Taulbert is a Pulitzer-prize nominee and the president and founder of the Building Community Institute as well as the author of 12 books, who also grew up in a segregated town during the '60s.
They opened the lecture with the question, "What is the South?'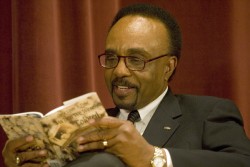 Clifton Taulbert reads poetry from "Once Upon a Time When We Were Colored."
"The South is an incredible place to call home," Taulbert said. "The first place you laugh, cry, the first place I saw the sun, moon and stars. The South holds you. We seemed to think there was no one else around but us."
Autry and Taulbert shared stories from their published works "Nights Under a Tin Roof" and "Once Upon a Time When We Were Colored," respectively. Through their gentle Southern voices they brought the South to life through detailed descriptions of everyday activities such as the terrors of visiting the outhouse on a dark night.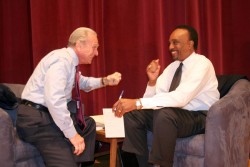 James Autry describes the flat, rich cotton fields in the Delta.
Through similar experiences, Autry and Taulbert revealed that even in segregated towns, there were several events that brought the white and black communities together.
Autry said his father was a preacher and during revival meetings in the evening at church, the overflow crowd outside the church was an integrated group of both black and white people listening to his father's sermon. He said the two communities also got together to rebuild a neighborhood home that burned down in a fire.
Similarly, Taulbert mentioned that funerals sometimes drew the white and black communities together, although afterwards both groups would revert back to their separate worlds.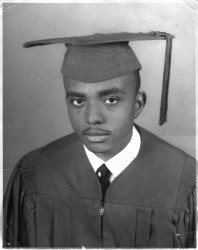 Clifton Taulbert poses for a high school graduation photo.
"'Just don't say anything to them,'" said Taulbert of his aunt's advice to stay away from white people. And although he had a white friend growing up, over time, segregation ended the friendship.
Segregation and racism were part of the reason Autry tried not to be a white Southerner for so many years, he said. He found music as an escape that offered a "boundless" opportunity where both black and white people were involved, and over time he accepted that his heritage and history is part of who he is.
Taulbert experienced a desire for change after crossing what he thought was the "magical" Mason-Dixon line that he'd been told would change everything for him. On a train ride, Taulbert woke up to realize he slept through passing the line and "nothing about me had changed."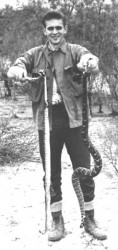 James Autry smiles after catching two snakes.
It is through these stories that Taulbert and Autry are connected. Their commitment to use words and their lives to demonstrate what a brotherhood should look like is what brought them to share with the Drake community. Autry said it best when he added, "Diversity is really about community."
"It was a wonderful opportunity for our students in particular, to experience a slice of history they might not have been exposed to," said Angela Renkoski, assistant professor of journalism and chair of the School of Journalism and Mass Communication Diversity Committee. "It was enlightened discourse about race and the South, a subject that at times has been uncivil and unenlightened, to say the least."
For more information on the speakers, visit www.members.aol.com/jamesautry/ and www.cliftontaulbert.com/.