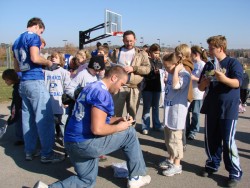 Drake football players sign autographs for "Grow Bulldogs" participants from Phillips Traditional School.
Drake and Phillips celebrate new 'Grow Bulldogs' program
Drake University's Bulldogs and School of Education teamed up with Des Moines' Phillips Traditional School on Nov. 9 to celebrate the success of their new "Grow Bulldogs" program.
The celebration featured Janet McMahill, FA'71, GR'76, dean of Drake's School of Education, Drake football Coach Steve Loney and 20 football players, who presented Phillips students with program certificates, a Drake football T-shirt and signed autographs.
"I've got nothing but tremendous feedback from teachers at Phillips and the program teachers," said Shea Moroni, senior education major and program organizer for athletics. "It's a great way for Drake to reach out to the community."
"Grow Bulldogs" is a nine-week program designed to help teach students lessons in math, reading, writing, social studies and health, with a focus on Drake football concepts such as using jersey numbers to teach addition and subtraction.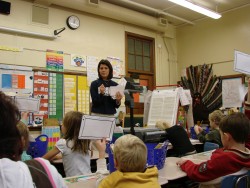 Sheri Fogarty teaches first grade students addition and subtraction with the football team's win and loss records.
The program followed Drake's football season, and each Friday during the program "Grow Bulldogs" teachers visited Phillips, 1701 Lay St. in Des Moines. Brandy Dahir, Drake women's basketball player and senior education major from Carrollton, Texas, taught lessons to Joe Adrian's fifth grade class, and Sheri Fogarty, senior education major from Bondurant, Iowa, taught lessons to Chris Wellman's first grade class. Both Drake professors and students as well as Phillips teachers and administrators created lessons with elements related to Drake football.
"Grow Bulldogs" also featured a field trip for Phillips students to visit the Drake Knapp Center, where students also toured campus and had lunch with Coach Loney and football players.
Athletic Director Sandy Hatfield Clubb, who had a similar experience with a program at another school, introduced the idea for the program to Drake and Phillips. Drake Athletics plans to expand the program and include other sports teams such as basketball.