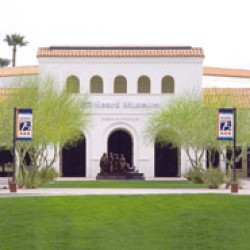 The Heard Museum
Drake University President David Maxwell, Madeleine Maxwell and Board of Trustees invite Phoenix-area alumni to an evening of celebration on Friday, Jan. 18, at the internationally acclaimed Heard Museum, 2301 N. Central Ave. The reception begins at 6 p.m., with guided tours available from 6 to 7:15 p.m. A Southwest dinner buffet will be offered at 7:15 p.m.
The Heard Museum is one of the world's premier collections of the cultures and art of Native Americans of the Southwest.
Cost of the event is $25 per person (a portion of the evening's cost has been underwritten by the Board of Trustees). RSVPs are requested by Jan. 4. For more information, please contact Barb Dietrich Boose at barbara.boose@drake.edu or 515-271-3077.