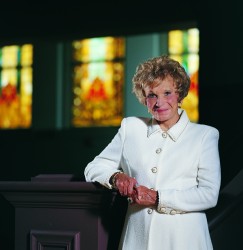 The stained glass windows in Sheslow Auditorium reflect Maddie Levitt's colorful character.
In her final year as national chair of the ambitious $190 million Campaign for Drake, Maddie Levitt told Drake President David Maxwell that the University wasn't keeping her busy enough, so she had taken a three-day-a-week position in fundraising at Iowa State University.
The fundraiser extraordinaire shared this stunning news in the midst of a reception for Drake alumni and friends. "She was so convincing that she scared the daylights out of me," President Maxwell recalled. "I must have looked so pathetic that she caved in and reminded me what day it was — April 1."
Levitt, who often said April 1 was her favorite holiday, was renowned for her sense of humor and April Fool's Day pranks. She was even better known as the consummate civic volunteer and philanthropist dedicated to making Drake a stronger university and Greater Des Moines a better community.
When Levitt died Nov. 7 at the age of 82, Drake lost its most cheerful, enthusiastic and devoted volunteer, fundraiser and benefactor. More than 500 people attended the celebration of her life on Nov. 9 in Sheslow Auditorium. A video slideshow is available here.
"Drake has lost a dear friend, an icon and symbol of our University's enduring commitment to excellence and to enhancing the quality of life in Greater Des Moines and Central Iowa," President Maxwell said. "She has changed Drake in countless ways through her extraordinary generosity, her tireless fundraising efforts and her indomitable spirit."
"Her important gift, and the one most valued by her colleagues, was herself," said Jim Hubbell, chair of Drake's Board of Trustees. "She was positive, confident, respectful, challenging, helpful, and curious every single day. She was the gift that Drake needed, and she gave of herself without limit, from start to finish."