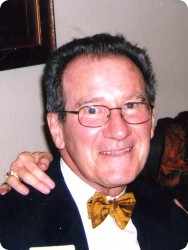 Lyle D. Middleton
Longtime Drake trustee and benefactor Lyle D. Middleton, LA' 61, LW'64, died at his Des Moines home on Dec. 1 at the age of 70 after more than a 10-year challenge with Parkinson's disease. He was surrounded by his family, including his wife, Joan, ED'63, GR'77.
Family and friends will celebrate the life of Lyle Middleton at 11 a.m. Friday, Dec. 7, at Central Presbyterian Church, 3829 Grand Ave. A reception, originally planned for the Embassy Club, will now be held immediately following the service at the Temple for Performing Arts, 1011 Locust St.
In lieu of flowers, memorial contributions may be made to the Des Moines "I Have a Dream" Foundation, or Drake's Urban Education Program or the Legal Clinic's Joan and Lyle Middleton Center for Children's Rights.
"The passing of Lyle Middleton is a real loss to Drake University and to the entire Des Moines community," said Jerry Foxhoven, director of the Joan and Lyle Middleton Center for Children's Rights at Drake Law School. "Lyle was a strong advocate for children, and he and his wife, Joan, did so many things to give some of the most vulnerable children opportunities for success.
The Drake University Law School in general, and the Joan and Lyle Middleton Center for Children's Rights in particular, mourn the loss of our friend, colleague and benefactor. Lyle has been a real blessing to the Des Moines and Drake communities and to many, many children. Our community is a better place for having Lyle among us."
Law School Dean David Walker described Lyle Middleton as "an extraordinarily gracious person, as kind and gracious as he was successful and astute in business. He was always committed to the University and we are especially grateful to him and to Joan for their substantial and visionary commitment to the University and the Law School."
In addition to establishing the Middleton Center for Children's Rights with a $1 million endowment, the Middletons also endowed the School of Education's Urban Education Program. Graduate education students in this program collaborate with law students working in the Drake Legal Clinic in an interdisciplinary effort to provide exceptional representation for children and to raise awareness of children's issues.
"The faculty and staff of the School of Education are especially grateful for the time, spirit and resources that Lyle Middleton allowed to be directed toward urban education," said School of Education Dean Jan McMahill. "Through a five-year endowment, we were able to add a full-time professor, develop new undergraduate and graduate courses and promote internship opportunities for students to work directly with schools and agencies serving disadvantaged youth. Recently, the Middleton gift provided scholarships for Des Moines area teachers to earn master's degrees in effective teaching with a concentration in urban education. Lyle Middleton leaves a legacy of education that will continue to benefit current and future generations."
Middleton grew up on a farm near Jefferson, Iowa, the eighth of 13 children born to Carl and Zetta Middleton. Despite his love of Iowa's farmland, Middleton left Jefferson to attend Drake as the first member of his family to go to college. He received his bachelor's degree in psychology and a law degree from Drake, where was elected student body president and won the Oreon E. Scott Award as the most outstanding senior.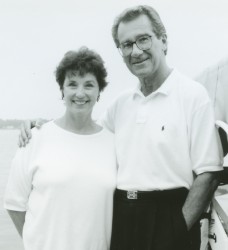 Joan and Lyle Middleton were married for nearly 45 years.
It was at Drake that he also met his bride, Joan Behrendt. They were
married Dec. 22, 1962, and just missed celebrating their 45th
anniversary by a few weeks.
Upon graduation, rather than pursuing a career as an attorney, he
joined his father-in-law and mother-in-law, Herman and Betty Behrendt,
in their business, which eventually became what was commonly known as
The Atlas Companies. Lyle served as president and CEO of Atlas until he
transitioned to semi-retirement status in the late 1990s.
Middleton also served Drake in myriad ways. He was a member of the
University's governing board from 1987 to 2003. He served two terms as
vice president of the National Alumni Association Board and was
national chair of the Annual Fund during the Campaign for Drake. Under
his leadership, contributions grew dramatically, topping $2 million for
the first time in 1990-91. He also was instrumental in increasing the
number of volunteers helping with fundraising activities. In addition,
he was co-chair of the 35th and 40th reunions for his class. The
University honored him with its Alumni Distinguished Service Award in
1995.
In addition to their support of Drake, Lyle and Joan Middleton
partnered with Des Moines businessman Dick Jacobson to sponsor the second of three classes for
The Des Moines "I Have a Dream" Foundation. The class is made up of 40 children originally from the Oakridge
Neighborhood. The students were in third grade at the start of the
program and will be graduating from high school in the next two years.
The program provides ongoing academic support and cultural and recreational activities. After high school graduation, the program helps pay tuition for college or vocational school.