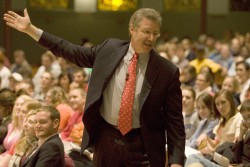 Barry Posner shares the five practices of leadership with Drake students in Sheslow Auditorium.
By Charley Magrew
Award-winning writer and renowned leadership consultant Barry Posner visited with students, faculty and staff at Drake University Nov. 29-30, discussing leadership programs and curriculum on campus and bringing new ideas to improve them.
"Posner is one of the very top theorists of leadership and an outstanding leader himself," said Don Adams, who has served numerous leadership roles for Drake University since 1969. "With about 125 students coming through the Adams Academy each year, it shows that leadership is very important to students at Drake and Posner's suggestions will help us make our future programming even better."
Posner gave a free presentation titled "Students as Leaders: Achieving Extraordinary Results" in Sheslow Auditorium. The event, which was open to Drake students as well as students from other local colleges, highlighted his "Five Practices of Exemplary Leadership":

• Modeling the way

• Inspiring a shared vision

• Challenging the process

• Enabling others to act

• Encouraging the heart



"We live in a world that there is more demanded of us — we enter a workplace with a turbulent environment and try to keep our heads above water, all the while keeping a smile on our face," Posner said to more than 100 students at the presentation. "There are no small roles in your organization…All the roles are important no matter where you are, but the people in those roles are the ones who have to decide whether to lead or not."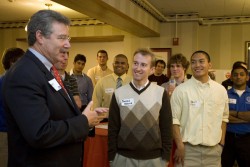 Barry Posner visits with members of Sigma Phi Epsilon during his visit at Drake.
In addition, Posner headlined a leadership conference titled "The
Leadership Challenge: The Five Practices of Exemplary Leadership
Workshop" on Nov. 30. More than 240 participants registered for the
workshop, which was sponsored by Drake University and the Central Iowa
Chapter of the American Society for Training and Development.
As part of his two-day campus visit, Posner discussed leadership issues
and programs at Drake with faculty, staff and administrators in several
sessions. He also met with students and administrators for a social
dinner at the Iowa Delta chapter of Sigma Phi Epsilon Fraternity.
Posner was a member and former president of the fraternity at the
University of California, Santa Barbara.
Among the guests at the dinner were Drake President David Maxwell and
his wife Madeleine; Don Adams, professor emeritus of education, and
vice president of enrollment management and student life; Jan Wise, the
director of student leadership programs; Bob Young, [ALUM DESIG.], the
head of the Donald V. Adams Leadership Institute Steering Committee;
and representatives of the Sigma Phi Epsilon national office.
"It's great for the national fraternity to have this opportunity to
meet with Barry Posner again," said Travis Swanson, director of
leadership development for Sigma Phi Epsilon Fraternity's national
office in Richmond, Va. "Posner's notable work and expertise has become
the basis of our Ruck Leadership Institute, which is designed for the
top undergraduate leaders within the fraternity."
Posner is coauthor of one of the bestselling leadership books — "The
Leadership Challenge," with colleague Jim Kouzes. Both Posner and
Kouzes are preeminent researchers, whose 1983 studies led them to
develop a leadership model now used by millions of people worldwide. He
is also the dean of the Leavey School of Business and professor of
leadership at Santa Clara University in Silicon Valley, Calif.