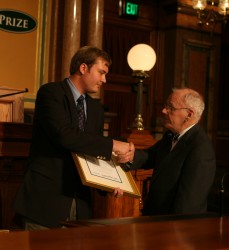 Stephen Lauer accepts the John Chrystal Award from Pulitzer-Prize winner Michael Gartner.
The World Food Prize Foundation has presented Drake University student Stephen Lauer with the annual John Chrystal Award for his outstanding biology research and work as a 2006 World Food Prize Borlaug-Ruan intern.
The annual award, which was established in 2000, is presented to a World Food Prize Borlaug-Ruan Intern who best reflects the commitment to honor John Chrystal's spirit and commitment to enrich Iowa's relationship with the world. Lauer accepted the award at the World Food Prize Laureate Award celebration ceremony at the State Capitol attended by more than 800 people from more than 65 countries.
Lauer, a junior biology and environmental science and policy major from Des Moines, Iowa, was selected as a Borlaug-Ruan International intern after participating in the World Food Prize Youth Institute in October 2005. The institute is a prerequisite required for the internship program.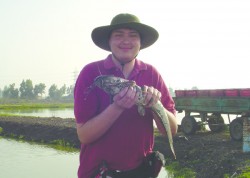 Stephen Lauer cradles an African Catfish in Egypt.
The eight-week internship landed Lauer at The WorldFish Center's Regional Center for Africa and West Asia in Abbassa, Egypt. He worked with Senior Aquaculture Scientist George John and Gamal El Naggar, to evaluate the use of green water as an alternative for feeding young tilapia. The experiment proved that green water, a concentrated liquid algae, was not a replacement for formulated feed and that the WorldFish Center should focus on other replacement options. Lauer was also exposed to aquaculture practices, especially pond productivity.
"Since returning to America and beginning my studies at Drake University, I have assumed an active role in the genesis and sharing of knowledge through working towards undergraduate research opportunities, preparing educational fire-safety brochures for the Latino community, and volunteering to be a part of Drake's adult literacy program," said Lauer, who is currently working on undergraduate genetics research with Assistant Professor of Biology Heidi Sleister.
"In the words of Nelson Mandela, 'A person is a person because of other people.' During my time in Egypt, I witnessed firsthand the truth and the power in this statement. My

Borlaug-Ruan internship has infinitely expanded my world while whetting my appetite for service. And it is through service that one becomes fully human."
Interns are selected to work in an eight-week internship in a poverty-stricken part of the world. The interns work in a lab and collect data in the field, while researching with world-renowned researchers on anti-hunger projects and nutrition problems in their location.
The program aims to inspire young Iowans to pursue careers in agricultural, food and natural resource disciplines.
Lauer graduated from Des Moines Roosevelt High School, where he was named "AP Scholar with Distinction," for his National Advanced Placement courses in biology, calculus, chemistry, English language and Spanish language.
For more information, visit the World Food Prize Web site. To read Stephen Lauer's paper, "Fishing for Justice: An Egyptian Experience," visit the Web site.