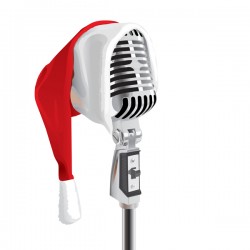 Actors from the Drake University community will perform a heartwarming holiday classic with a new twist when they bring to the stage "It's a Wonderful Life — A Live Radio Play," which opens Thursday, Dec. 13.
Drake Associate Provost John Burney and alumnus Tom Geraty, ED'84, are directing the play, which will be presented Dec. 13-16 as a live national broadcast from 1950 with all sound effects created on the Jordan Stage in Sheslow Auditorium in Old Main, 2507 University Ave. Proceeds from the show will benefit the Friends of Drake Arts and support the University's fine arts programs.
"Live radio broadcasts are the kind of thing people rarely get to see anymore," said John Burney, former dean of Drake's College of Arts and Sciences. "This show is unique because it takes a family friendly holiday classic and presents it in a new way."
"It's A Wonderful Life" tells the story of George Bailey, a small-town businessman who faces financial ruin and arrest and is seriously thinking of ending his life on Christmas Eve. His troubles come to the attention of his guardian angel, who takes George on a trip through his past to see the impact he has made on others in his community, showing him the beauty in life.
Jimmy Stewart played George Bailey in Frank Capra's 1946 movie, one the most popular American films of all-time and a perennial holiday favorite. When the film's copyright lapsed in 1973, "It's a Wonderful Life" quickly became a staple of American TV programming between Thanksgiving and Christmas. Ranked No. 11 on the American Film Institute's list of Greatest Films, "It's a Wonderful Life" is an indisputable movie classic.
The movie formed the basis for Joe Landry's "It's a Wonderful Life — A Live Radio Play," which has received much critical acclaim since its debut in the mid-1990s. Mary Houlihan of the Chicago Sun-Times, for example, described it as "One of the best holiday shows around… this is a fresh and inventive way of reconnecting with a classic story of love and redemption."
Geraty and Ann Cravero, Drake assistant professor of music, will perform the lead roles of George Bailey and his wife, Mary Hatch. Geraty serves on the executive committee of Friends of Drake Arts and has performed this show with his Chicago theater company on multiple occasions.
The rest of the cast will all play multiple roles, including:
Dennis Goldford, professor of politics, as Harry Bailey, George's brother
Elizabeth Robertson, professor of English, as Rose Bailey, George's mother
Barbara Martin, as Violet, Mary's rival
Douglas Uhlman, biology lab assistant, as Joseph, the superintendent of angels
Terry Kruse, assistant dean for academic support, as Clarence, the angel who needs his wings
John Burney as the announcer and the evil Mr. Potter
Kirk Martin, director of Drake's Chinese Cultural Exchange Program, on sound effects
Bruce Martin, professor emeritus of English, on the piano
Last year, Burney and Geraty were among the ambitious thespians who presented "The Compleat Works of William Shakespeare (Abridged)," which showed all 37 of William Shakespeare's plays in less than two hours. The show raised more than $6,000 for Friends of Drake Arts, which is a goal Burney hopes can be matched or exceeded with this year's production.
"'It's A Wonderful Life' is a holiday classic that is great for the whole family," Burney said. "It also gives faculty, staff and students the opportunity to see their colleagues in a new setting, bringing the Drake community together."
Performances will begin at 7:30 p.m. Thursday, Dec. 13, and at 8 p.m. on Dec. 14 and 15, and 2 p.m. Dec. 16. General admission tickets are $20 for adults, $10 for Drake faculty and staff and $5 for all students. For tickets, call the Drake Fine Arts Box Office at 515-271-3841. Tickets also will be available at Sheslow Auditorium one hour before each performance.