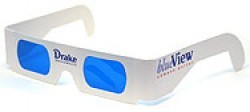 Drake alumni share a special lifelong connection to the University and to each other. Alumni will soon be able to enjoy an even stronger connection thanks to Drake's new online alumni community, "blueView."
With their personal Drake ID number, alumni worldwide can enter blueView to access the University's password-protected online alumni community where they can

• search for classmates by name, college, year or city

• update personal information and choose what parts of their information other alumni can see on blueView

• learn about and register for upcoming events

• create groups of alumni by interest, geographic region, or their student organizations

• mentor students

• make gifts to The Drake Fund

• see news from around campus

• find more information about services offered by the Drake National Alumni Association, all in a secure, exclusive environment.
Drake alumni will soon receive Drake National Alumni Association membership cards, with their personalized Drake ID numbers, and information on how to log on to blueView.