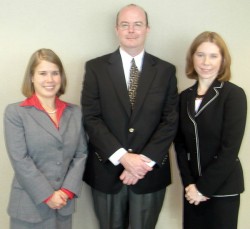 The petitioner team of Miriam Epstein, David James and Erin Grundy.
The Drake Law School National Moot Court Teams were awarded national awards for best briefs in the 58th annual National Moot Court Competition on Nov. 15, at the University of St. Thomas Law School in Minneapolis.
The Drake team of Miriam Epstein, Erin Grundy and David James received the Third Best Brief award. Ashley Dose, Jacob Lofgren, Kevin Teets won the Fifth Best Brief award. Both teams were coached by the Ellis and Nelle Levitt Distinguished Professor of Law Laurie Dore and alumni coach Emily Peebler, AS'04, LW'07.
In addition, Drake students were awarded individual oralist awards. James won First Best Oralist; Teets won Second Best Oralist; Lofgren won Third Best Oralist; and Grundy won Fourth Best Oralist.
Both Drake teams entered the elimination rounds undefeated and entered the quarter finals round as one and two seeds. The Grundy, Epstein, James team was defeated by the William Mitchell team, which won the Overall Best Brief Award. The Lofgren, Dose, Teets team was defeated by the University of Minnesota team which won Second Best Brief.
The case concerned a state gun control law that requires that handguns be registered and kept in a non-functional condition and that prohibits the delivery of handgun ammunition to persons under the age of 18.
The law students argued two questions of first impression: whether the Second Amendment to the U.S. Constitution gives individual citizens the right to keep and bear arms; and whether federal law preempts a state's ability to restrict the interstate delivery of handgun ammunition to its minors.
More than 150 law schools and more than 185 teams competed in the 14 regional competitions held in November. Only 28 teams advance to the national finals in New York City.
The Des Moines law firm of Whitfield & Eddy sponsored the team. The National Moot Court Competition, co-sponsored by the American College of Trial Lawyers and the New York City Bar, is one of the oldest and most prestigious of its kind in the country.