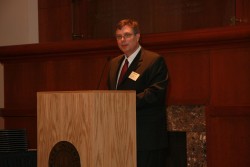 Lance Noe speaks to program participants.
Drake brings customized training programs to Des Moines businesses
Drake University teaches many students — including employees from major Des Moines companies — Hubbell Realty Co., Principal Financial Group and Meredith Corp.
After moving to the College of Business and Public Administration four years ago and creating a connection with faculty, Drake's Center for Graduate and Professional Studies aimed to work more with the Des Moines community.
The center developed customized training programs for area businesses that teach graduate-level learning objectives to management teams within the companies.
"The Center for Professional Studies views customized certificate programs as key to delivering lifelong learning opportunities to professionals in the Des Moines metro," said Lance Noe, director of professional studies and the center. "We believe we are helping to enhance the capacity and competitiveness of central Iowa's private, public and nonprofit sectors. We are fortunate to have talented faculty willing to devote a portion of their talents to this mission."
Rick Tollakson, president and chief executive officer, and Drake Board of Trustee Chair Jim Hubbell, chairman of Hubbell Realty, worked with the CBPA team to develop a study program for their management staff.
Tollakson said that one of the most important investments that his company makes is in its people. "These classes are more than just an exercise in team building. Drake's professors are showing our managers exactly how our business here in Des Moines integrates with the national and international economies. There was never any question that we would turn to Drake to implement this program."
These hands-on training programs also give professors the opportunity to design curriculum in which they can teach and implement current research to fit the company's goals.
Principal Financial Group recently graduated a 28-member second class of leaders who completed the Certificate in Business Leadership program based on Principal's goals. Drake's Tom Root, assistant professor of finance and other key members from CBPA, created a program of study that met learning needs for employees and leaders.
Similarly, Meredith Corp. worked with Drake's Center for Professional Studies to create a customized program. Andy Norman, assistant professor of marketing, was key in developing a graduate educational program for marketing professionals at Meredith. Professionals completed the Certificate in Marketing program and developed projects that supported Meredith's mission.
With its connection to the business community, the certificate program is drawing professionals who wish to get graduate degrees, enroll in MBA programs and earn credit toward degree programs.
"These certificate programs are an excellent connection to the Des Moines business community," said Danette Kenne, director of graduate and professional studies. "They give us chance to provide a high level classroom experience for executives, and we're able to give our graduate faculty the opportunity to have dialogue with high level people at business organizations."