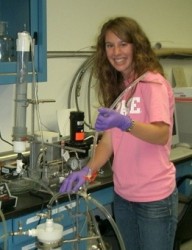 Erin Anderson conducting tests in the lab
Drake students shuttle NASA research projects home to Drake
From creating a sports drink from urine to detecting toxic metals in water, three Drake students rocketed through summer research internships at NASA Ames Research Center in Moffett Field, Calif. The students recently shared findings from the exciting experience at a Drake University Science Colloquium Series presentation.
From urine to sports drink
Erin Anderson, a senior biochemistry and molecular biology major from Topeka, Kan,, presented "Lightweight Contingency Urine Recovery System and Osmotic Distillation System." Anderson presented her research that focused on developing a system used to recycle urine to produce an electrolyte-containing hydration beverage similar to sports drinks such as Powerade.
The system would allow for an efficient low mass option that provides astronauts with water in the event of an emergency.
Anderson found a large percent of water could be recovered from the system. A catheter on the astronaut's leg will collect and process the urine in a personal system, which the astronauts could then drink from a tube.
"My experience with NASA was incredible," said Anderson, who decided she would not continue her research with NASA in lieu of applying to medical schools. "It is such an awesome opportunity for anyone, and hopefully this [partnership with Drake] will continue for years."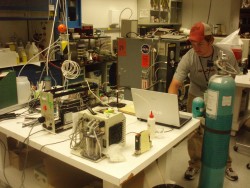 David Ehresmann evaluates the experimental apparatus.
Making more space for shuttles in outer space
David Ehresmann, a senior biochemistry and molecular biology major from Northfield, Minn., discussed "Advanced Atmosphere Revitalization Technologies," outlining the necessity of advancements in Atmosphere Revitalization (AR) technologies to reduce power consumption and mass, and increase reliability for long duration space exploration missions.
"Currently, there are plans to get rid of the space shuttle, which requires shrinking a lot of stuff down, including life support, water treatment, space, mass, volume and energy, and you need to find a balance of what you bring up and what you need," said Ehresmann. "You cannot be shooting up ridiculous quantities of things; it is all about reducing mass."
Ehresmann is excited to return to NASA for a year after graduation for further research.
"I will return as a researcher with a given project, but I will be on my own with it, much like a grad student with different responsibility," said Ehresmann, whose friends have nicknamed him "NASA Dave."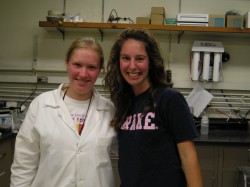 Sarah Arlien and Erin Anderson in the lab at NASA Center.
Detecting toxic metal in water with purposeful proteins
Sarah Arlien, a senior arts and sciences major, presented "Development of a Protein Based Nickel Sensor." Her research explored new monitoring technologies, such as molecular biosensors derived from proteins, which can be used during long duration space flights to check for nickel, a toxic metal that can enter the space shuttle and International Space Station's potable water systems. These monitoring systems could also be used to monitor the environment on Earth.
"My favorite experience within the research itself was the poster session," said Arlien. "It was great to get the experience presenting my research and seeing what all the other interns had done."
For more information about the NASA internship or DUSCI, contact Maria Bohorquez at 515-271-2595 or dusci@drake.edu.