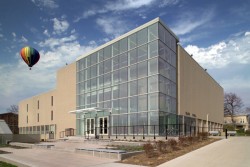 The atrium entrance was designed to brighten spaces inside the Hall with natural light.
The transformation of Drake University's Olin Hall is turning heads on and off campus. The $4 million project caught the attention of the Illinois Chapter of the Association of Licensed Architects, which presented a 2007 Merit Design Award to the architectural firm of Chicago-based Holabird & Root.
Holabird & Root's "Drake University Olin Hall Renovation and Addition" design offers new and updated features including: a new main entry atrium; informal student study and gathering spaces; an exterior plaza and revamped classrooms; and teaching labs with natural light.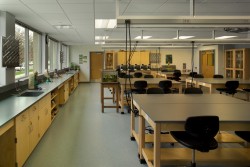 Olin Hall's newly renovated up-to-date laboratories support active participatory learning.
"The renovated spaces including the atrium, corridor display wall, labs, classrooms and student gathering spaces were all conceived and executed with the idea of supporting active participatory learning," said Dennis Vovos, project manager of Holabird & Root. "If this renovation results in a richer learning experience for Drake students and faculty, it will truly have earned its award."
A jury of five jurors composed of architects and design professionals judged entries on merits based on award criteria including: program solution, site and space planning, overall design solution and construction system and details. Twenty-nine winners were selected for either a presidential, gold, silver or merit award from more than 80 entries in seven categories. The Olin Hall project was recognized in the Renovation category.
ALA is a national organization of architects and related professionals that aims to recognize professionals for design excellence with creative and aesthetic work.
For more information, visit the Association of Licensed Architects' Web site.