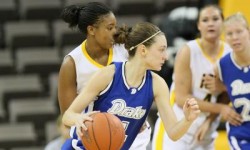 Drake women's basketball signs four student athletes
Drake women's basketball Head Coach Amy Stephens recently announced
that four high school standouts will join the Bulldog program for the
2008-09 academic year. Rachael Hackbarth from Colgate, Wis.; Brittnye
McSparron from Appley Valley, Minn.; Alex Montgomery from Cannon Falls,
Minn.; and Amber Wollschlager from Milbank, S.D. signed national
letters of intent.
"We feel this is a really solid recruiting class and each young
women represents everything we're striving for in our student-athletes
at Drake University," said Stephens. "Great character, strong academics
and a commitment to day-to-day excellence."
Hackbarth, a 6-2 forward, a two-time first team all-conference
performer at Wisconsin Lutheran High School where she averaged 12.5
points, 9.2 rebounds and 2.3 blocks per game as a junior to lead the
Vikings to a 15-7 mark.
"Rachael is a natural rebounder, who we feel has a huge upside,"
Stephens said. "She is a versatile post player that is as adept going
inside as she is out and she has the ability handle the ball like a
guard."
McSparron, a 5-8 point guard, helped guide East View High School to
a 22-7 mark and a conference crown as a junior averaging 21.4 points,
3.1 rebounds and 2.1 assists per contest. Twice named a first team
all-league performer, she collected honorable mention all-state laurels
last season as her 21.4 scoring average paced the Lake Conference.
"Brittnye has a great passion and spirit for the game of basketball
that we absolutely love in our program," Stephens stated. "She will
compete at the point guard position and provides us valuable depth for
the first time in my time at Drake. She has speed and quickness that
will give her the tools to be a great defender in our system."
Montgomery, a 6-1 forward, has been a member of three straight
Hiawatha Valley League title teams at Cannon Falls High School. A
two-time all-conference performer, she averaged 23.2 points, 10.2
rebounds and 2.0 blocks per game a junior en route to being named to
all-area player of the year. She played a key role in sparking the
Bombers to a 28-6 mark and a class 2A state title in Minnesota as a
sophomore.
"Alex has the ability to play with her back to the basket and she
can present opponents problems as she has shown she can shoot the
three-pointer very well," Stephens said. "Alex knows how to score and
she understands the commitment it takes to be successful at the
collegiate level."
Wollschlager, a 6-0 shooting guard, garnered first team all-state
accolades at Milbank High School after leading the Bulldogs to their
second consecutive third-place finish at the South Dakota State
Tournament. She was a second team all-state selection in both her
freshman and sophomore campaigns and has tallied over 2,000 career
points (2,058).
"Amber has a focus and intensity for basketball and academics that
separates her from the norm," Stephens commented. "Her versatility as a
guard position is one of her many strengths."
Hackbarth, McSparron, Montgomery are Wollschlager are the first
student-athletes to sign national letters of intent with Stephens and
the Bulldogs for the 2008-09 campaign.