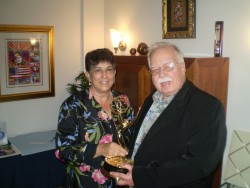 Jean Rosone, FA'76, costume supervisor on Fox Television's "24," shows one of her three Emmy Awards to Professor William Coleman.
Nearly 50 Drake alumni and friends gathered in November in the Burbank, Calif., home of Jean Rosone, FA'76, to reconnect and reminisce with Dr. William "Doc" Coleman, professor emeritus of theatre arts.
Alumni in attendance ranged in graduation years from the early 1970s to the early 2000s, Coleman said.
"It was a whirlwind journey through the past. We talked about old shows, good friends, and stories both funny and sad," he noted. "There were five Emmys represented in the room and many nominations. Everyone is working. I was gratified and very proud of the group and the impact that my colleagues and I had on them."