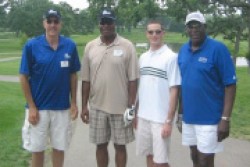 Alumni enjoyed the 13th annual Windy City Golf Outing last year.
Enjoy a great day of golf and camaraderie with fellow Drake alumni and friends at the 14th annual Windy City Golf Outing on Thursday, June 19, 2008, at Makray Memorial Golf Club, Barrington. All alumni are invited; if you don't golf, plan to attend the dinner that evening.
A committee of local alumni is working on plans for the golf outing and dinner. Want to get involved? Contact John Brown at 515-271-3378 or john.brown@drake.edu. Fore!