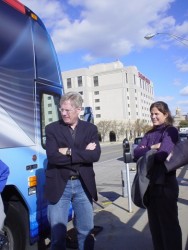 Kate Baier shares caucus predictions with CNN reporter Tom Foreman outside CNN bus downtown Des Moines.
With caucuses fast approaching and presidential candidates campaigning in Iowa, six Drake students got a first-hand experience to talk about the 2008 caucuses when they were interviewed by CNN on Oct. 5.
During a field trip for a public affairs reporting class, journalism students stumbled on a CNN bus parked downtown Des Moines and asked for a tour. Viki Arias, Ashley Kuhnlein, Luz Sacta, Nicole Braunsdorf, Kate Baier and Evan Jurkovich were students featured on CNN.
Students were interviewed by reporter Tom Foreman about the upcoming caucuses and their predictions, and later featured on "360 Raw Politics" on CNN.
On a news clip from Monday night's show, Baier said, "I think a lot of people are going to be surprised. I don't think it's going to be Giuliani and Hillary." Baier, a junior journalism student from Cedar Rapids, Iowa, also added that she predicts McCain and Biden will get attention during the caucuses.
To view the CNN video, visit www.cnn.com/video/ and type "raw politics Monday" in the search box.