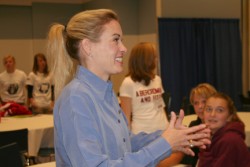 Suzy Favor Hamilton speaks to students about following their dreams.
Three-time Olympian Suzy Favor Hamilton and two-time Olympic silver medalist and world record holder Mike Powell headlined the third annual CHARACTER COUNTS! In Iowa's Pursuing Victory With Honor Summit on Oct. 30.
The conference aimed to encourage the 470 participants including student athletes, coaches, teachers and Iowans, to demonstrate CHARACTER COUNTS! in sports.
Favor Hamilton encouraged students to get involved. As she told about her life experiences as a runner she said, "I was very fortunate to do what I loved, and I owe so much to my running."
Although she's seen much fortune and many victories, Favor Hamilton also told participants about her losing moments and tough times, which made her stronger and encouraged her to work harder to be the best she could be.
"Go for it!" Favor Hamilton said. "Whatever it may be, be the best person you can be."
Favor Hamilton competed in the 1,500-meter run in the 1992, 1996 and 2000 Olympics, and won seven U.S. national championships in track and field. She was ranked No. 1 in the U.S. for her 1,500 meter run in 1989, 1990, 1998, 2000, 2001 and 2002. In 2001, Favor Hamilton was inducted into the Drake Relays Athletes Hall of Fame, and still owns the women's 800, 1,500 and 3,000 meter runs records for the Drake Relays.
Powell also spoke to participants in breakout sessions encouraging CHARACTER COUNTS! through the six pillars of character. To demonstrate honesty, citizenship, respect and caring, as well as the other pillars of character, Powell shared some of his own experiences.
While in Africa, Powell learned to appreciate the gifts that he has been given in life and he empathizes with the people he was there to help who were living in a struggling third world country.
He encouraged participants to be honest, appreciate what they've been given, empathize with others who are in need, respect competitors and their talents and be good to others.
Powell won a silver medal in the long jump at the 1988 and 1992 Summer Olympics, and made history at the 1991 World Outdoor Championships in Tokyo, Japan, where he set a world record in the long jump at 29 feet 4 inches, which took the place of Bob Beamon's 23-year-old world record.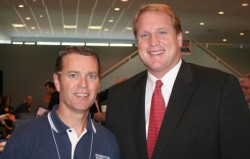 Scott Raecker, executive director of the Institute for Character Development, welcomes Gov. Culver at Tuesday's summit.
Iowa Gov. Chet Culver opened the conference with comments regarding athletes' ability to make a better Iowa by showing passion, sportsmanship, drive and commitment.
"You'll learn a lot in school, but today you'll learn some of life's most important lessons," said Gov. Culver. "Make sure you take full advantage of this opportunity."
The sessions covered myriad topics such as diversity, goal setting, preparation and gamesmanship vs. sportsmanship.
Other keynote speakers included former Drake head basketball coach Tom Davis, who accumulated 598 victories during a 32-year coaching career; Mike Beaman, chief of staff of the Iowa State Homeland Security; Drake Vice Provost Wanda Everage; West Des Moines Valley High School Athletic Director Steve Duncan and Drake Volleyball Coach Amy Knowles.
The event was sponsored by Drake University, Iowa Health Systems, CHARACTER COUNTS! In Iowa, the Iowa Games and the Iowa National Guard.
For more information about CHARACTER COUNTS! In Iowa, visit the Web site.