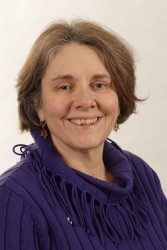 Rhonda Howard-Hassmann
CONTACT: David Skidmore, 515-271-3843, david.skidmore@drake.edu;

Lisa Lacher, 515-271-3119, lisa.lacher@drake.edu
International human rights expert Rhonda Howard-Hassmann will deliver a free, public lecture on "Reparations to Africa for the Slave Trade," at 7:30 p.m., Monday, Nov. 5, in Sheslow Auditorium in Old Main, 2507 University Ave.
Howard-Hassmann is a fellow of the Royal Society of Canada and a Canada research chair in international human rights at Wilfrid Laurier University in Ontario, Canada. In 2004, her book titled "Compassionate Canadians: Civic Leaders Discuss Human Rights," was named 2004 Outstanding Book by the human rights section of the American Political Science Association, which named her the first distinguished professor of human rights. She received a doctorate in sociology from McGill University in 1976.
Howard-Hassmann's lecture is part of a series on "America's Role in the World" and is sponsored by Drake's Center for Global Citizenship and the Drake Humanities Center.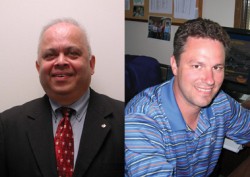 Arvind Dandekar and Carl Czarnik
The series continues Tuesday, Nov. 6, when business leaders Arvind Dandekar and Carl Czarnik present "The U.S. in the Global Economy" at 12:30 p.m., in Bulldog Theater in Olmsted Center, 2875 University Ave.
Dandekar is president and CEO of Fastek International in Hiawatha, Iowa. The company specializes in software engineering and automated testing systems. He currently serves on the Iowa Department of Economic Development Board.
Czarnik is vice president of Gerdau Ameristeel, Central Region, in Wilton, Iowa, which is the fourth largest steel company in North America.
The lecture series will continue throughout the fall semester. For more information about the upcoming lectures, call 515-271-3119 or visit the Web site.