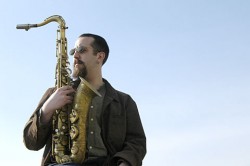 Adam Niewood
CONTACT: Lisa Lacher, 515-271-3119, lisa.lacher@drake.edu
Renowned jazz saxophonist Adam Niewood and his Rabble Rousers jazz quartet from New York City will perform a public concert at 8 p.m. Tuesday, Nov. 13, in the Performing Arts Hall of the Harmon Fine Arts Center at Drake University, 25th Street and Carpenter Avenue.
In addition to his performance with guitarist Jesse Lewis, bassist Chris Higgins and drummer Greg Ritchie, Niewood will present a master class for Drake students at 2 p.m. at the Mainstay, 25th Street and Forest Avenue. The clinic, which is free and open to the public, will include practicing routines and composition for improvisation.
"Adam Niewood is one of the great contemporary jazz tenor saxophone players and has a firm foundation in the roots of the music," said James Romain, assistant professor of saxophone and jazz studies at Drake. "Drake's Department of Music at Drake University is thrilled and honored to present Adam Niewood and his music to the campus and Des Moines community. It will be an event to be savored — and remembered."
Niewood comes from an extensive music background. At 5 years of age, he traveled with this father, Gerry Niewood, on two world tours with Paul Simon and Art Garfunkel, and Liza Minnelli. Adam Niewood began playing the tenor saxophone in high school, where he went on to perform with his father in a big band. Earning his bachelors degree in music performance from Berklee College of Music, William Paterson University, and his master's from the Manhattan School of Music, Niewood travels across the country to perform and present clinics.

Tickets, available at the door and Drake Box Office, cost $8 for general admission, $5 for non-Drake students and seniors, and free to Drake students. The quartet will also perform with the Des Moines Big Band at the Adventureland Inn at 6:30 p.m. Monday, Nov. 12. Tickets are $6 for general admission and $5 for students.
For more information on the performance at Drake, call 515-271-3841. Additional information about Adam Niewood and the Adam Niewood Quartet is available online.