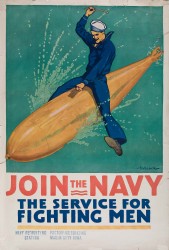 "Join the Navy" by Richard Fayerweath Babcock, 1917.
CONTACT: Lisa Lacher, 515-271-3119, lisa.lacher@drake.edu
Drake University launches its fall fine arts season this week with an exhibition of World War I propaganda posters, a special performance featuring music and theatre faculty members and a recital by a renowned pianist.
"Selling the War: Posters of World War I," an exhibition of 33 original propaganda posters on loan from the State Historical Society of Iowa, will open with a reception from 5 to 7:30 p.m. Friday, Sept. 7, in the Anderson Gallery in the Harmon Fine Arts Center, 25th Street and Carpenter Avenue. International posters will be featured alongside American posters, all exemplifying early 20th century design.
Libby Chenault of the University of North Carolina at Chapel Hill will give a public lecture titled "Appealing Images: Posters of the Great War in Perspective" at 4:30 p.m. Thursday, Sept. 20, in room 336 of the Harmon Fine Arts Center. In addition, Jack Lufkin, curator of the State Historical Society, will conduct a gallery walk at 4 p.m. Tuesday, Oct. 9. The exhibition will continue through Oct. 12.
All the events and the exhibition, which continues through Oct. 12, are free and open to the public. Gallery hours are noon to 4 p.m. Tuesday through Sunday.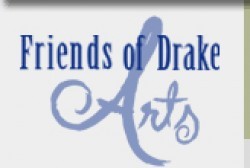 Also on Friday, Sept. 7, fine arts faculty members will showcase their musical and theatrical talents in "A Night of Stars," a free concert sponsored by Friends of Drake Arts. The performance will start at 7:30 p.m. on the Jordan Stage in Sheslow Auditorium in Old Main, 2507 University Ave.
Clive Elliott, Drake's Daniel B. Goldberg artist in residence in theatre arts, will portray a broken-down actor in saggy tights performing a monologue titled "The Night I Appeared as Macbeth." A new faculty member, Karla Kash, visiting assistant professor of theatre arts, will sing "Maybe This Time" from the musical "Cabaret" by John Kaner and Fred Ebb. She also will perform a Shakespeare monologue from "As You Like It."
The concert also will feature the following full-time members of the music faculty performing in solos and ensembles:
Ann Cravero, mezzo-soprano
Leanne Freeman-Miller, soprano
Leslie Marrs, flute
Clarence Padilla, clarinet
Sarah Plum, violin
James Romain, clarinet and saxophone
Nicholas Roth, piano
Ashley Sidon
Rika Uchida, piano
Friends of Drake Arts is a member organization that celebrates and supports the visual and performing arts at the University. In addition to providing opportunities for young aspiring artists, the group sponsors an interactive open house, pre-theater dinners and audience talks, receptions at the Anderson Gallery, special performances and other events. Memberships start at $35 a year. For more information about the group, call 515-271-3055 or visit its Web site.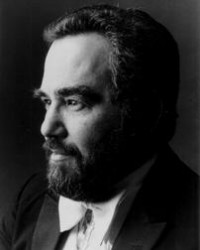 Jack Winerock
On Saturday, Sept. 8, internationally renowned pianist Jack Winerock, professor of piano at the University of Kansas, will give a solo recital at 8 p.m. on the Jordan Stage in Sheslow Auditorium. The recital, which is free and open to the public, will feature works by Schubert, Ravel and Griffes.
"I have met Professor Winerock at several conferences in recent years, and I can say that he is not only a world-class artist of extraordinary refinement and accomplishment, but he is also a tremendously warm-hearted person," said Nicholas Roth, Drake assistant professor of piano. "We are truly fortunate to host Dr. Winerock and I anticipate a memorable concert on the evening of Sept. 8."
A native of New York City, Winerock earned his undergraduate and master's degrees at the Juilliard School of Music and his doctorate from the University of Michigan. Hr received Second Prize in the International Bach Competition in 1976. Also that year, he made his orchestral debut with the National Symphony Orchestra at the Kennedy Center in Washington, D.C. In 1979, he made his New York debut at Alice Tully Hall in Lincoln Center. Since that time he has received yearly invitations to perform in Europe and South America as well as in the United States.
Winerock has received rave reviews from critics at home and abroad. The New York Times praised him for "A performance of expressive refinement and rare delicacy." The Washington Post described him as "Highly original, individual and tremendously impressive." The London Times noted that "His powerful hands and resourceful technique are directed by a long-sighted view that encompassed the whole work."
For more information about Winerock, visit his Web site. Information about his recordings is available online.